If you're among those looking to test themselves in the upcoming Dimension of the Damned in RuneScape, you've now got an idea of some of the prizes waiting for you. And, honestly, quite a few of them are impressive indeed.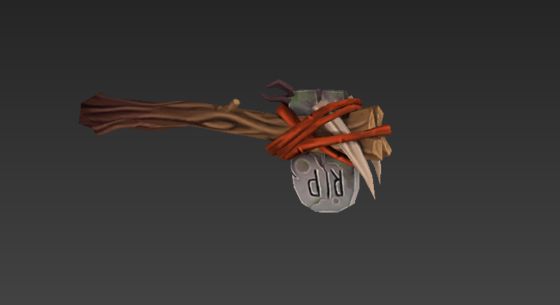 Just in case you're not familiar, let's review: Dimension of the Damned is a two-week long event starting on Monday, October 16th where players will have to cooperate to survive against hordes of zombies. Every player will have a maxed out character and earns points by killing enemies. These points can be spent on upgrades, equipment, and materials, as well as count towards a spot in the Finale on October 28th. During the Finale, it's 1000 players for themselves as they face two hours of endless zombie hordes, a shrinking world, and permanent character death.
So what rewards are on offer for those who go through this zombie-filled gauntlet? From the 16th through the 25th, players who complete three sessions of Dimension of the Damned will get a unique outfit, while players who complete all session goals in one session win the Tombstone Axe weapon skin pictured above.
As for the Finale, that's where the prizes get more impressive: the 1000 players invited to the event a unique title; the top 10 will have their name added to a statue and receive a unique pet; the top 5 get an all-expenses-paid trip to Jagex and Gold Premier Club membership for 2018 along with previous rewards; and the last person standing gets all previous rewards plus 200M GP, a Lifetime Membership, a Real-life Zombie Award, and the title of King or Queen of the Damned.
Our Thoughts
Well, those prizes are definitely nothing to sneeze at! While many will likely be more than happy with the cosmetic rewards, we do have to admit to a bit of envy at some of the top-tier prizes on offer. That said, those who manage to survive this challenge certainly are worthy.
Source: official forums
Articles Related to RuneScape
RuneFest 2017 Offers Myriad RuneScape Reveals
RuneScape Mobile Interview with Producer John Colgrave
RuneScape Shifts Away from Expansion-Sized Updates
Related:
Event (In Game)
,
MMORPG
,
News
,
Runescape
,
Sandbox MMO