As fun as the idea maybe sounded on paper, there weren't enough players to support the idea. Such is the explanation for the announcement of the RuneScape Idle Adventures closure. The off-beat spinoff title from RuneScape will go dark in a matter of a few days.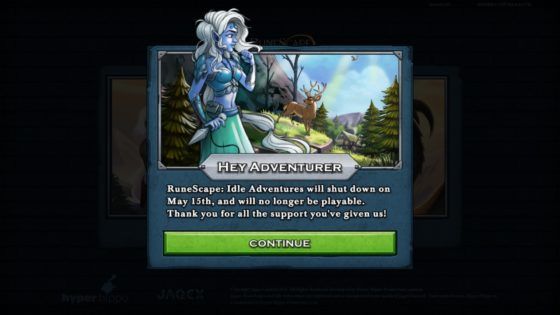 "You have been an excellent community throughout, in all the right ways: talkative, passionate, and analytical," reads the announcement. "You've given us a tonne of great feedback as we've worked hard to improve the game in the right ways. The reality is that those improvements did not change the game enough, and new players weren't sticking around to finish the stories and quests that we'd already created, let alone justify us creating additional content."
As a result of the waning interest in RuneScape Idle Adventures, the game will go dark on Monday, May 15th at 11:59 pm UTC. While the game itself is shuttering, it sounds like the devs will be perhaps moving on to other RuneScape-related projects. "Both teams will be working hard on bringing you the next big ideas we have, and we'll let you know as soon as those big ideas converge in Gielinor again," explains the post.
Our Thoughts
We genuinely hope that the team behind RuneScape Idle Adventures lands on their feet soon. While it's always a shame to see a game go, it's fairly obvious there wasn't quite enough support to maintain the title's future development.
Source: Steam
Articles Related to RuneScape Idle Adventures
RuneScape Details The Shifting Tombs of the Menaphos Expansion
"15 Years of Adventure" Are Celebrated in a RuneScape Documentary
RuneScape Menaphos is the First of Three Expansions in 2017
Related:
News
,
RPG
,
RuneScape: Idle Adventures
,
Shutdown