For the past few weeks, we've been getting pieces of information on the latest RuneScape Menaphos expansion, and now that content can be personally experienced by players of the MMO today. The Golden City is now open to adventurers in the game's latest update.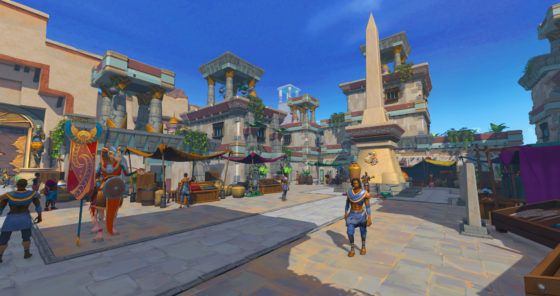 Described as the largest single-day content update in RuneScape's history, Menaphos: The Golden City offers players four new story quests, procedurally-generated City Quests, a new Slayer Dungeon with an increased cap to the Slayer skill, minigame-style exploration in The Shifting Tombs, and a graphical update to the desert region of the entire game.
While the content in this new update is meant for mid to high-level players, some of the region's new content will be available to new arrivals as well. Completion of a three-part quest will lead new arrivals to the city of Menaphos, where players can take part in City Quests, discover collectibles, and enjoy a 5% buff to skill training, all while using the new area as a launching point for further adventures.
While the Menaphos update is offered only to RuneScape members, the entire game will open up to everyone during a Free Play Weekend starting on Friday, June 9th until Monday, June 12th. Every aspect of the MMO will be completely free during the weekend.
A gameplay trailer for the new update is available for viewing below.
Our Thoughts
While we're certainly happy to see the Menaphos expansion's launch, we're even more intrigued by the free weekend being offered. Regardless of if you're an old vet of this classic MMO or you're a potential new arrival, we hope that this update provides a great deal of fun.
Source: press release
Articles Related to RuneScape
RuneScape Menaphos is the First of Three Expansions in 2017
RuneScape Accidentally Unveils a "Next-Gen" Edition
RuneScape Devs Team with SpatialOS for Future Projects
Related:
News
,
Runescape
,
Sandbox MMO
,
Update