What do you get when you have scores of pink-haired Gnomes running through Azeroth? You get the World of Warcraft Running of the Gnomes, of course! You also get astonishing philanthropy as the charity event raked in over $16,000 to benefit breast cancer research.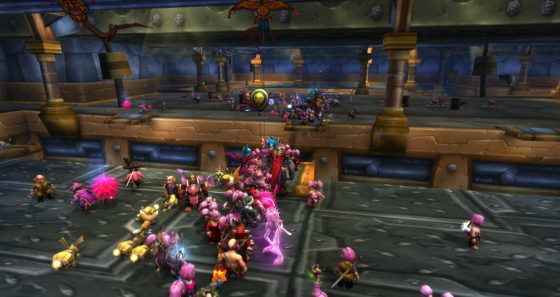 The event was held this past Saturday, October 14th on the Scarlet Crusade-US server. A reported 7,000 pink-coiffed Gnomes took part in the Great Gnomeregan Run micro-holiday taking place that day, transforming the event into a charitable spectacle.
The event was created in support of the Cleveland Clinic's work on the Tuohy Vaccine, a drug that could spell the end of breast cancer. The vaccine is currently undergoing early human trials.
In the end, the community pulled together $16,295, absolutely destroying the originally stated goal of $4,000. Those who are still looking to donate to the cause are welcome to do so on the event's donation site. You can also watch the nearly hour-long event from start to finish below.
Our Thoughts
Wow! Congratulations to the Running of the Gnomes participants and a huge congratulations to the World of Warcraft community for making such an incredible donation possible! The Tuohy Vaccine is probably the single most important advancement in cancer medicine to date and we're pretty certain the money raised will make sure the research propels further forward. Pink gnome power!
Source: event Tumblr page via MMORPG.com
Articles Related to World of Warcraft
World of Warcraft Fan Art is Celebrated in New Video Series
WoW Wednesday: What is Bolvar Fordragon Planning?
WoW's Q&A Discusses 7.3.2 Legendaries, RNG, and Argus Flight
Related:
Charity
,
Community Event
,
Event (In Game)
,
MMORPG
,
News
,
World of Warcraft