The next series of cinematic quests for Warframe is right around the corner. It was recently announced that The Sacrifice will be released on the week of June 11, 2018, where players will be tasked with hunting down a dangerous new Warframe.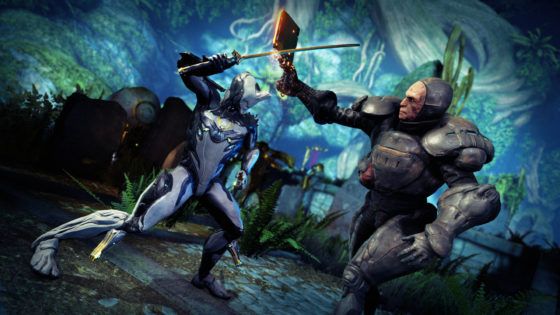 Although free for all players, The Sacrifice will only be accessible to the most dedicated Tenno who have completed The Second Dream, The War Within, Chains of Harrow, and the Apostasy Prologue. In this storyline, players will learn about the plight of The Lotus, Ballas, and the creation of the Warframes. They will experience an action packed labyrinthine gauntlet, cutscenes, flashbacks, and the future of the Warframes.
Key Features:
UMBRA, AT LAST: Ferocious and untamed, Umbra's fury is second only to his mastery of the blade. Complete The Sacrifice to discover the power of Umbra.
UI, PRIMED: Warframe's user interface is ever-evolving. Experience the first step in this brand-new UI, including a revamped inventory menu, customizable UI themes, updated vendor menus (like Baro, Syndicates, etc.), new UI sounds across all menus, and more!
TENNO CUSTOMIZATIONS: Embrace the shadows with these ancient Orokin masterpieces.

Umbra Armor: Eclipse the darkness of Umbra with this Armor Set for any Warframe.
Umbra Operator Cosmetics: Adorn your Operator with these ascendant Cosmetics.
Umbra Hooded Scarf: Prowl the night with this masterful scarf.
Umbra Blindfold: Embrace the shadows with this elegant blindfold.
Umbra Diadem: Adorn your Operator with this ascendant crown.
Umbra Earpiece: Dazzle your foes with these ancient earpieces.
Umbra Kubrow Armor: Howl at the moon with the Umbra Kubrow Armor Set.
Umbra Kavat Armor: The Umbra Kavat Armor Set embodies the height of feline Fashion Frame.
Additionally, players can use the code "OLDFRIEND" for a free Orokin Tea Set Decoration and a 3-Day Affinity Booster! Available on all platforms until at 11:59 p.m. ET, July 20, 2018.
The Sacrifice update is expected to arrive on PlayStation 4 and Xbox One this summer.
Source: Press Release
Related:
Digital Extremes
,
E3 2018
,
News
,
Warframe