A new space MMO called Lazarus has been announced by indie developer Spilt Milk Studios, and the Lazarus closed beta test will begin on August 12th.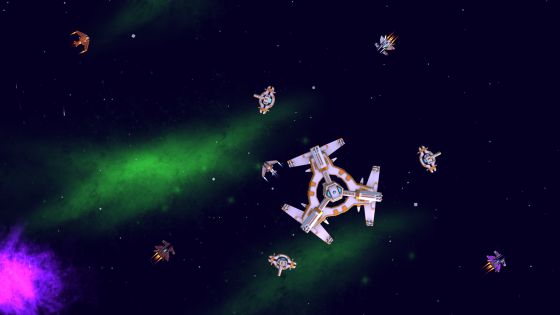 Described by the company's press release as "a tumultuous 'MMO Roguelike' that turns back in on itself every week like some kind of ultra-futuristic Ouroboros," Lazarus is a top-down, action-oriented internet spaceship MMO that will feature a single persistent world covering 160,000 square kilometers, or just under the size of North Korea. The game will let players forage, explore and dogfight each other as they try to survive in the game's universe.
Lazarus will be free-to-play when it launches on Steam Early Access later this year, but the game is hosting a closed beta starting on August 12th. Players who are interested in finding out more or signing up for beta can go to the official site.
Our Thoughts
From what we can tell from the screenshots and release, this game looks like a top-down, low-poly EVE Online with a brighter color palette. We're very intrigued by the colorful description provided for the game, and we're also interested in the sort of community Lazarus is looking to build.
Your Thoughts
Does Lazarus sound like the kind of MMO you'd be interested in? Do you have any concerns or ideas about what sort of game Lazarus could become? Let us know what you think.
Source: Press release
Articles Related to Lazarus
The MMO Alpha and Beta List: July 29, 2016
Fragmented Early Access Review
Shadow of the Serpent EVE Online Event Now Live
Related:
Closed Beta
,
Early Access
,
MMORPG Sci-Fi
,
News
,
Sandbox