Being a pirate game set mainly in the open ocean, one would perhaps not be surprised to find that the Sea of Thieves content roadmap is less "roadmap" and more "ocean chart". Thematics aside, the devs have taken the time to detail what's coming for their sandbox title in an effort to quell the oft-heard refrain of Sea of Thieves' lack of actual things to do.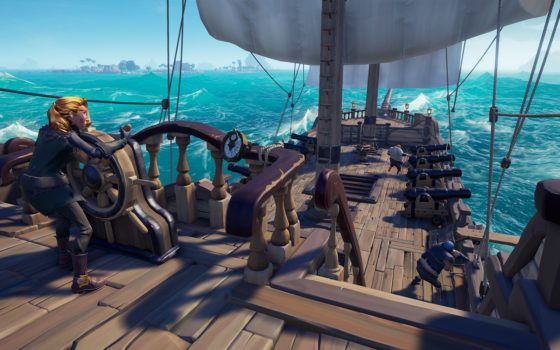 While the majority of dev time in April will be spent addressing top feedback points from the game's current players, things will start to grow for Sea of Thieves starting in May as focus moves to adding new content. The first major update due in May will be called The Hungering Deep, which will feature a new AI threat intended to bring multiple crews together to face for unique rewards. May will also signal the start of smaller weekly events meant to fill the gaps between major updates.
After the release of The Hungering Deep update, the Summer months will add two more updates: Cursed Sails, which is bringing a new ship type; and Forsaken Shores, which will add another area for crews to explore. After that, the rest of the year will see another three large-scale content patches through the Fall and Winter months, though early details on just what those involve have not been revealed.
A video from the dev team elaborating a bit more on this update cadence and their plans for Sea of Thieves going forward can be seen below.
Our Thoughts
Ideally, these updates will indeed be rich enough to keep players invested, particularly since many seem to agree that Sea of Thieves released with a very bare-bones suite of things to do outside of a long reputation grind and rules-free PvP. We'll be interested in seeing just how these new updates grow the game, especially if they actually do indeed bring multiple crews together as intended.
Source: official site
Articles Related to Sea of Thieves
Here's How You'll Dress Up Your Ship and Yourself in Sea of Thieves
Sea of Thieves Details End Game, Post-Launch Updates, and Microtransactions
Sea of Thieves Outlines Character Progression
Related:
Multiplayer
,
News
,
Roadmap
,
Sandbox MMO
,
Sea of Thieves