It would seem that once a week was more trouble than it was worth. In the latest Sea of Thieves developer update video, executive producer Joe Neate confirmed that weekly updates to the pirating sandbox will be scaled back in the interest of improving overall quality of content.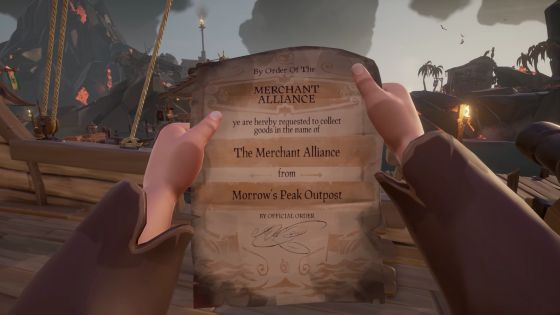 According to Neate, while the weekly update cadence had some benefits, they were more often than not introducing more bugs into the game, which ultimately led to more downtime and more work. Additionally, the update pace didn't provide meaningful content.
As a result, they're scaling things back, with updates to the game only arriving with major content updates, Bilge Rat Adventures, or major quality of life updates or bug fixes."We want to move away from [weekly updates] and really focus on only updating the game when we're actually going to be delivering significant player value to people," explained Neate.
That said, today's planned update which has brought the new Cargo Run mission type for the Merchant's Alliance faction has gone live. Unlike regular Merchant's Alliance missions where you have to find the items yourself, these missions have you taking up already collected valuables and dropping them off to a specific location. These valuables are unique, with items like rum or fine silks, and also have their own unique requirements like keeping rum bottles from breaking or keeping silks dry.
The developer update video also talked about changes to the Pioneers testing program, the upcoming Festival of the Damned event, and other matters. You can check out the video below and learn more about Cargo Runs here.
Our Thoughts
While having regular updates would have been nice, if they're more trouble than they're worth then we can appreciate the decision to move away from that plan. Ideally, there's enough things for players in Sea of Thieves to do now that there won't bee too many complaints. Ideally.
Sources: YouTube, official site
Related:
Multiplayer
,
News
,
Sandbox MMO
,
Sea of Thieves
,
Update
,
Video