Ever since Sea of Thieves skeletons became a thing, the challenge of creating good enemy AI has been something the Sea of Thieves devs have had to face. The most recent dev diary video from the team goes into their progress on that front, discussing how they animate their skeletons and give them a brain. Like necromancy, but digital.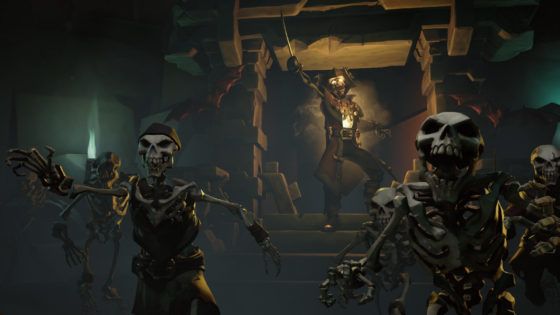 This video features senior designer Andrew Preston and software engineer Sarah Noonan as they discuss the ins-and-outs of skeletal behavior in Sea of Thieves. Noonan brings up the addition of different perception types, including a skeleton's ability to hear and react to sounds instead of just visual cues.
Discussion also brought up the fact that distance and volume of a sound now has an impact: a skeleton might hear a faraway cannon shot and investigate the area without auto-magically knowing where to attack a player, and soft sounds like a shovel digging in to sand likely will go beyond a skeleton's notice. Skeletons now also feature a sense of self-preservation, running away from a fight and attempting to heal if they've taken too much damage.
Skeletons are also outfitted based on a player's point in personal progression, with different abilities such as proficient aiming or different weapons from unarmed to straight-up blunderbusses. This melds into the new Bounty Quests, where players must face waves of skeletons of increasing strength, which is all handled by a unique spawner system created by the team.
Sea of Thieves will have its closed beta starting Wednesday, January 24th until Monday, January 29th. Until then, you can see how the knee bone connects to the thigh bone in the video below.
Our Thoughts
Considering that the bigger threat in Sea of Thieves will be opposing crews, it's good to know that the skeletons of Sea of Thieves aren't going to be completely shrugged off. After all, it's a big ocean and not every threat is going to be PvP-based.
Source: YouTube
Articles Related to Sea of Thieves
Sea of Thieves Has a Limited-Edition Controller with DLC
Sea of Thieves Outlines Character Progression
Sea of Thieves Release Date Confirmed
Related:
Dev Diary
,
News
,
Sandbox MMO
,
Sea of Thieves
,
Video