One of the most intrinsically "pirate-y" activities is following rhyming puzzles in order to get to some sweet hidden loot. Sea of Thieves riddle quests are offering just that, as the latest Inn-Side Story video from the devs talks about the unique treasure map style and the experience it brings to the game.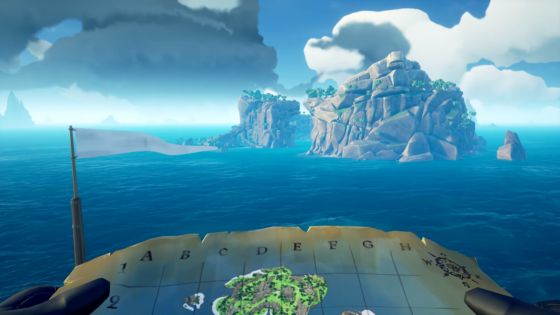 Riddle quests are treasure maps by any other name, though the steps players have to take to unearth the loot are obscured by rhyming couplets that guide players to unique landmarks in the world. Each of the steps in a riddle quest is not immediately viewable and instead are unveiled as each riddle is solved, with what to do next blurred out until players are in the right spot.
Riddle quests have also allowed the devs to introduce some new gameplay mechanics to Sea of Thieves. One such example is a "pacing" mechanic that will let players move from basic walking to a deliberate, rhythmic pacing in order to uncover "walk 10 paces"-style steps with the press of a controller's right trigger. Riddle quests are also a way to make players use items they perhaps never use on a regular basis, with raising a lantern on a landmark or playing instruments at a certain location offered as examples.
You can check out the full Inn-Side Story video below for more insight and details on this form of gameplay.
Our Thoughts
Treasure hunting should definitely be more involved than simply "x marks the spot", so bringing some cinematic pirate style to Sea of Thieves is a brilliant idea. Every decision about this game screams swashbuckling fun and riddle quests are a prime example.
Source: YouTube
Articles Related to Sea of Thieves
Sea of Thieves Earns Game Critics Awards Nominations
Sea of Thieves Opens its Technical Alpha to Windows 10 Players
Sea of Thieves Alpha 0.1.1 Adds More Islands and Animates Skeletons
Related:
MMO
,
News
,
Sea of Thieves
,
Video