The time World of Warcraft fans around the world have been waiting for is nearly upon us. The released date and cinematic trailer for Warlords of Draenor will be shown in the Theatre at Ace Hotel in Los Angeles and livestreamed online. Blizzard is going all out for this event. But it will be a first come, first serve event and seats are limited. Anyone who attends the live event will get a beta key for Warlords of Draenor. It won't just be a cinematic trailer and done though. They'll also be interviewing developers, announcing the launch date for Warlords of Draenor, and debuting the first episode of the new animated lore mini-series; Lords of War. If you want to attend you can find all the details below. If you are under the age of 12 you must bring an adult.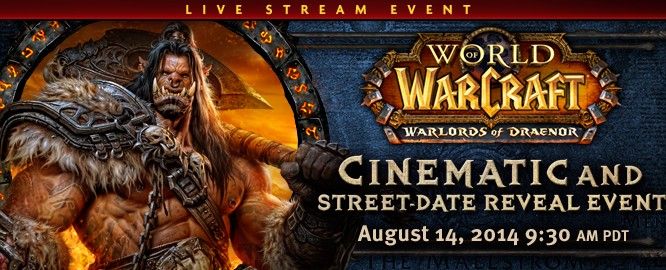 Warlords of Draenor Reveal
August 14th, 9:30AM PDT (Doors open at 8:30)
Theatre at Ace Hotel
929 South Broadway
Los Angeles, CA
Or head to Worldofwarcraft.com to watch the live stream.