The galaxy-level sandbox MMO Seed still isn't technically a thing, but there's enough game there for the devs to take on some Seed community questions, which ran the gamut from controlling griefing to how colony governments form and practically everything else in between.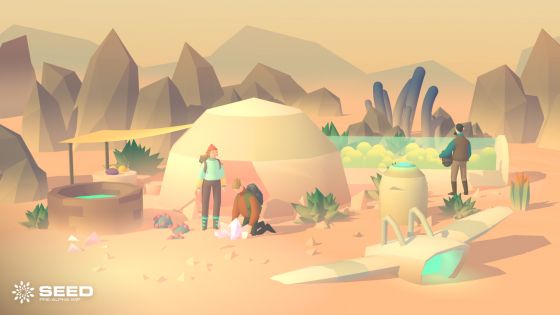 There's a pretty large amount of topics to cover in this Q&A session from the devs, but we'll try to focus down on the more interesting bits:
Players will get to choose where they start, be it on their own or with friends. The devs also have plans to incentivize letting new arrivals join a colony.
There are no plans for safe zones specifically, but the team will step in and enforce them if they're needed.
Colonies will get to form their own governments, and the team has even taken on the aid of a Harvard law professor to set the system up.
Incidentally, colony government formation is the method by which players will be empowered to mitigate trolling and toxicity, along with more standard reporting tools. "Seed is about building a new world and shouldn't have ties to the atrocities of the past," reads part of the answer.
The specifics of how warfare will work are still not decided, but the devs do say it will be more strategic, with factors like Seedling tiredness and hunger playing a factor.
As mentioned before, there's more to take in from this round of community answers, so make sure you head to the game's website for all of the specifics.
Our Thoughts
On the subject of toxicity; it's been made clear time and time again that tools to manage vile behavior in MMOs have to be integrated. The ideal is that players form together to manage things themselves and have the most agency, of course, but this pie-in-the-sky scenario has never happened and there's little to believe that Seed's hands-off approach will do anything differently.
Source: official site
Related:
Community
,
News
,
Q&A
,
Sandbox MMO
,
Seed