The thing about cursed objects is that stuffing them into a closet doesn't suddenly make them not cursed. This is a lesson the citizens of Bögenhafen are learning all too well, and as usual it's up to the player heroes to clean up the mess. That's the setup for today's Shadows over Bögenhafen DLC release for Vermintide 2. More or less.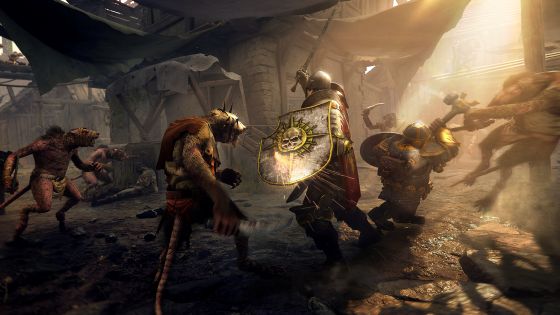 Shadows over Bögenhafen introduces players of the co-op critter slasher to the titular town, which has fallen under the curse of the Blightreaper, a pestilent blade that has brought a Nurgle infestation. The task: cleave through the threats, find the Blightreaper, and perhaps see it unmade.
The new DLC adds two new levels for players to cut through in the form of The Pit and The Cleansing, along with a number of new challenges and quests to overcome. Rewards added in this DLC include new skins, portrait frames, Illusions and hats. Those who own the DLC can even invite players who don't have the expansion pack into their runs.
Unsurprisingly, developer Fatshark's CEO Martin Wahlund is pretty excited. "Shadows over Bögenhafen adds even more compelling content that should challenge and satisfy even the most hardened players," says Wahlund in a statement. "After the huge success with the release of Warhammer: Vermintide 2 we remain focused on supporting the game with new content and experiences."
The DLC is arriving today on Steam for those who are interested. There's also a release trailer that sets the scene you can view below.
Our Thoughts
We're not sure two levels is a lot for a DLC's release, but then again those could be some pretty compelling two levels regardless. In any case, for fans of this particular online co-op game, we hope they have a good time in Bögenhafen one can in a plague-ridden city.
Source: press release
Related:
Co-op
,
DLC
,
Launch Date
,
Multiplayer
,
Release Date
,
Vermintide 2