If you thought fighting games and CCGs couldn't mesh, think again. Japanese developer Cygames has announced a Shadowverse and Street Fighter V collab feature that will be arriving in the online CCG soon.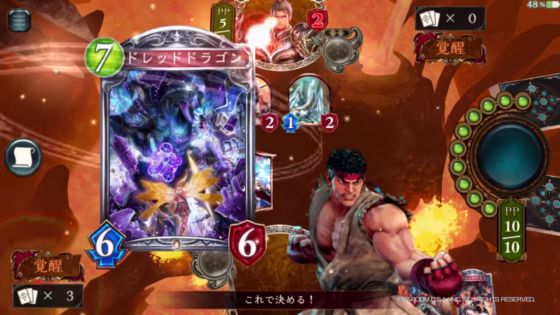 Shadowverse classes will be associated with characters from the popular fighting game franchise, such as Ryu for the Dragoncraft class and Chun Li for the Swordcraft class. The collab will see seven characters in total represented in Shadowverse, with themed character skins and card sleeves on the way.
The announcement does mention that while Shadowverse is a free to play title, the Street Fighter V items may require additional purchase and details of the collaboration could change. Interested players are directed to the game's official website or the in-game news feed for later updates.
The Shadowverse and Street Fighter V collab will arrive in-game this Spring. A video for the event can be seen below.
Our Thoughts
It's an interesting idea to mesh these two games together, though we do have to wonder how many players of Shadowverse are also players or fans of Street Fighter V. Regardless, we're sure that franchise fans are interested in seeing the game represented in Shadowverse. Customization in any online game is popular, after all.
Your Thoughts
What do you think about this collaboration between Shadowverse and Street Fighter V? Do you think the two universes are a fun combination or does this make you scratch your head? Let us know in the comments.
Source: press release
Articles Related to Shadowverse
Card Battle Game Shadowverse Launches on Steam
Games Like Hearthstone
Hearthstone Global Games Features 48 Countries in $300k Tournament
Related:
CCG
,
Collab
,
Event (In Game)
,
News
,
Shadowverse
,
Street Fighter V
,
TCG