If you're going to be aboard a literal ship of heroes, you're going to want some villains to fight. Luckily for you (and probably unluckily for the average citizens), you're not spoiled for choices as another Ship of Heroes villain group has been revealed, which also happens to reveal new possibilities for character creation as the feature enters alpha testing today.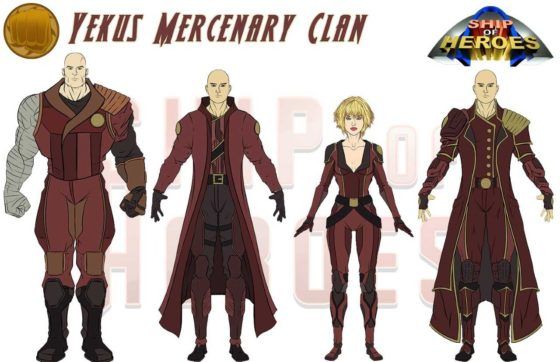 First, a bit of background on the villain group in question, the Yekus Mercenary Clan. The Yekus, as mercs often do, operate on both sides of conflict, with a multi-species membership that utilizes cybernetic implants and high-tech weaponry.
The group's presence aboard the FHS Justice is led by one Matthew Ingles, AKA Mad Matt – so named for his recklessness and penchant for personally leading his forces in a fight. Whether Mad Matt is a super or not is unknown, as he uses such a broad variety of homemade gadgets that it's unclear whether there are innate powers involved or just a lot of deadly toys.
The new villain group has some ramifications for the Ship of Heroes character creator, which has begun alpha testing today. Namely, the group's clothing styles, female officers, cybernetic implant pieces, and a number of face and hair styles can soon be built within the creator itself.
Additional details on Ship of Heroes testing and new powerset videos are planned for the week. Until then, you can check out concept art and details about the Yekus Mercenary clan on the Ship of Heroes website.
Our Thoughts
For players who like to build more tech-minded and cyber-enhanced characters, the Yekus provide some excellent customization potential. With all of that said, we're more looking forward to seeing these customizations in actual practice within the game instead of just through concept art.
Source: press release
Articles Related to Ship of Heroes
Ship of Heroes Shows Off an Upgraded Character Creator
PAX West 2017: Ship of Heroes Reveals Gameplay and Initial Testing Dates
Ship of Heroes Showcases Mission Instance Tech
Related:
Character Creation
,
Lore
,
MMORPG
,
News
,
Ship of Heroes