At a panel at PAX West this past weekend, some big announcements came out of the dev team for Ship of Heroes. In addition to a new trailer that showed off some in-game features and a new powerset, Ship of Heroes test dates were also offered for a number of aspects of the superheroic MMORPG.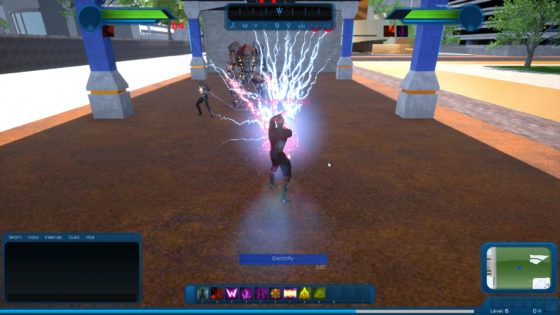 In a video showcase for the game, a character is built from scratch with selection of an Archetype, primary, and secondary powers, with the new Lightning Blast powers for the Devastator Archetype selected. After that, a run-through of the character creation was demoed featuring an improved standard male model that was upgraded in July. Finally, the preview showed a quick in-game flight around the starting zone of Apotheosis City and closed with some quick combat against Promethean enemies.
In addition to the demo, Ship of Heroes also announced release windows for game module testing. Character creation will get its own alpha test in September, an escorted combat alpha is planned for some time in December, Raid testing will commence in June of 2018, and finally a full-blown beta test is set for December 2018.
You can check out the slideshow presented at PAX West here, read more about what was presented here, and take a look at the demonstration video itself below.
Our Thoughts
Ship of Heroes has certainly come a pretty long way in a short amount of time, but one question that's not answered in either the press release or on the game's website is whether these tests will be openly available or only on offer to backers or supporters. Either way, this game is still looking intriguing and could become a great MMO if it works out some of its rougher edges.
Source: press release
Articles Related to Ship of Heroes
Ship of Heroes Showcases Mission Instance Tech
Ship of Heroes Mission Demo Goes Beneath the City Surface
Ship of Heroes Preview: A Tour of Apotheosis City
Related:
Alpha Test
,
MMORPG
,
News
,
PAX West 2017
,
Ship of Heroes