Earlier this month, Ship of Heroes announced plans to run combat alpha tests with backers and devs playing the game side-by-side. Today, some new Ship of Heroes combat footage from those tests has been shared by the team, granting players a look at group dynamics and combat.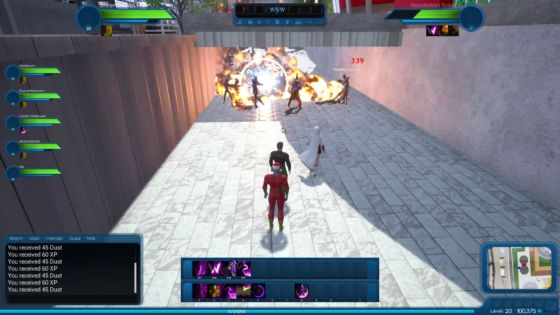 As described in the lead-up to the alpha tests, the encounters in question have been tuned up in order to let those within the test get a feel for what each of the pre-built characters have to offer while also granting a look at enemy AI. The fights in question were specifically arranged set pieces in Apotheosis City, with each group of mobs ramping up in difficulty.
According to the blurb below the video, each of the encounters were all a bit different, with one group of enemies having the ability to ignore taunts and automatically target healers as an example. The description also warned against button-mashing, as doing so "can lead to problems."
The related news post on the game's website goes into further detail on how the combat alphas have already unearthed some bugs and praises the invited players' feedback. "One of the things we've heard from each of the groups that has participated so far is simply the best feedback: Ship of Heroes is already fun to play," reads the post. "The combat Alpha is a complete success."
Be sure to read up the full post on the Ship of Heroes site for all the ins-and-outs, or you can just watch heroes blow up villains in the footage below.
Our Thoughts
As noted in the post, it's been about 14 months since Ship of Heroes was first shown off and about 13 months since they offered a taste of combat, so it's awesome to see how far the game has come. We're looking forward to seeing testing for this one expand to even bigger scales soon.
Source: official site
Articles Related to Ship of Heroes
Ship of Heroes Previews the Dark Blast Powerset
Ship of Heroes Showcases Mission Instance Tech
Ship of Heroes Preview: A Tour of Apotheosis City
Related:
Alpha
,
MMO
,
News
,
Ship of Heroes
,
Video