Sometimes, you just gotta dance. That might be the thought behind a new Ship of Heroes demo video shared by the team of the upcoming sci-fi superhero MMORPG, which shows off several landmarks of the Apotheosis City zone while demonstrating the game's AI and camera angles.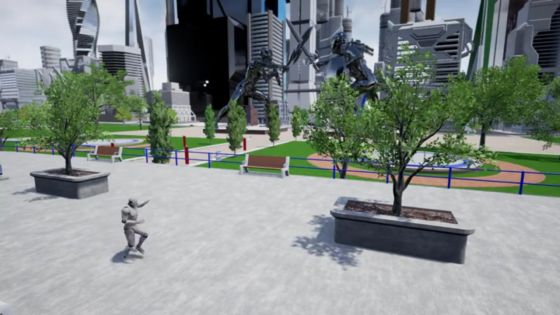 The short video follows the happy feet of the so-called "Dancing Dude", a basic body model that illustrates the game's AI movement in action. The model cuts a rug across several areas in the Apotheosis City starting zone, including a large statue and what appears to be a tram station.
The video is another example of what's described as a whirlwind development schedule. "The development of the game has been an amazing, fast-paced journey," writes Heroic Games' Justin Roberti. "Not only because we are an agile team of developers using UE4 for development, but because we have the drive and organization to meet all of our milestones."
Those milestones include the creation of the 3 square kilometer Apotheosis City, the game's character creation system, and the first creation of NPCs and UI elements, which have all been detailed on the game's official site.
Ship of Heroes is currently aiming for a Kickstarter campaign in April and an alpha test set for sometime in 2018. In the meantime, you can watch the Dancing Dude kick up his heels in the video below and read more on the project and the reasons being the happy little video from our friends at 2P.com here.
Our Thoughts
Ship of Heroes is definitely coming together quite well, and it's hard to ignore how well animated the game looks! We are definitely intrigued to learn more about what else this game has to offer, particularly with regards to gameplay and other systems.
Your Thoughts
What do you think of Ship of Heroes' progress? Are you looking forward to the game's Kickstarter, or is there something more you need to see out of the dev team before you offer support? Let us know in the comments.
Source: press release
Video Credit: 2p
Articles Related to Ship of Heroes
The MMO Alph and Beta List: January 17, 2017
City of Titans Launch Date Revealed
Preperations to Launch Valiance Online on Steam Have Begun
Related:
Crowdfunding
,
Development
,
MMORPG
,
News
,
Ship of Heroes
,
Video