While seeing pictures and words about civilians and cars is one thing, seeing it in full motion is completely another. That's what's on offer with the most recent Ship of Heroes developer update video.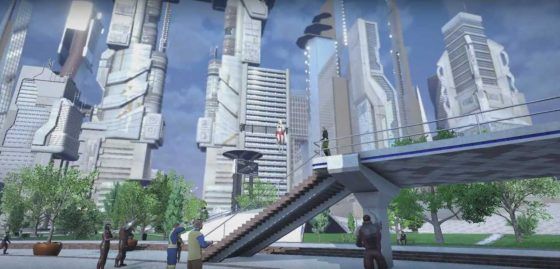 The video mentions once again that this new NPC activity is all about immersion to give players of Ship of Heroes a sense of a living world. The video takes place during sometime about midday, but players will see NPC activity change depending on what time it is, with fewer cars on the road during early morning hours given as an example.
The video also shows off some of the distinct behaviors of pedestrian NPCs, such as a citizen standing on a platform and giving a speech to a small group of others. The video also points out that NPC outfits are designed with different professions in mind.
As mentioned previously, a video showing off the game's day/night cycle is next up, along with the login test, a raid test, and an upgrade to Unreal Engine. For now, you can watch Apotheosis Citizens mill about in the embed below.
Our Thoughts
This sort of thing is one of those features that you don't really notice is missing until you see footage before and after. These new NPC movements really do bring a sense of a lived-in world to Ship of Heroes. As always, we're continuing to look forward to what else the devs of this MMORPG have lined up next.
Source: YouTube
Related:
MMO
,
MMORPG
,
News
,
Ship of Heroes
,
Video