It's been a pretty significant length of time between Kickstarter and now – 52 updates to the game, to be exact – but the wait is finally over for sandbox MMORPG fans. Today marks the official Shroud of the Avatar launch, bringing the game a whole bunch of new stuff as one would expect.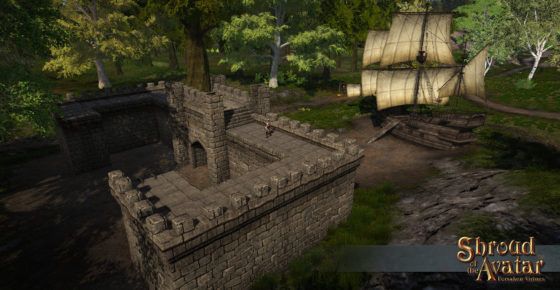 R52 of SotA brings the final phases of iteration to the game's top 10 launch priorities, with specific focus on performance, player direction, enemy behavior, and polish to story and UI. Players can also look forward to some new scenes and scene rebuilds, along with further refinements and balance to combat.
Beyond today's launch update, players should expect to see monthly updates full of new content, new features and bug squishing. The devs also plan on releasing a Q2 update schedule detailing what each of these releases will bring.
As often is the case with updates to Shroud of the Avatar, the patch notes are extremely detailed, so be sure to grab a very comfy chair and maybe an entire lunch platter and give them a look. There's also a new launch trailer below.
Our Thoughts
Our sincerest congratulations to the team at Shroud of the Avatar for making it to full release product. We suspect that many of the developers and the players have been eager for this moment to arrive, so we hope the fans enjoy the full launch update and the devs get perhaps a moment to catch their collective breath.
Source: official site
Articles Related to Shroud of the Avatar
Shroud of the Avatar: Forsaken Virtues Game Page
Shroud of the Avatar Schedules a Final Wipe
Shroud of the Avatar Early Access Trailer
Related:
Launch
,
News
,
Release
,
Sandbox MMORPG
,
Shroud of the Avatar