It's not much of an FPS without some weapons to shoot, and so a new Sky Noon trailer is showing off just what sort of guns players will get to wield as they try to blast their foes off of the map with puffs of air or draw themselves back to terra firma via grappling hook.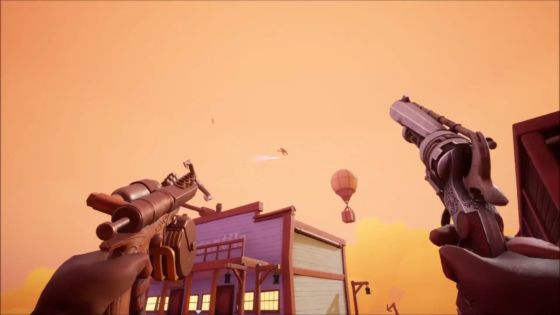 Currently, Sky Noon is offering four different forms of compressed air assault, from the rapid-fire Road Runner machine pistol to the AoE blasts of the Jail Breaker hand cannon. Of course, everyone also has their trusty grappling hook at the ready, AKA The Lifeline, as it will likely be the only thing standing between you and being completely taken out.
Sky Noon is currently accepting the details of interested players on its website for a closed beta test scheduled to kick off in April. A Discord channel for the game has also opened today for those who want to keep up-to-date with news, social events and giveaways.
As for the aforementioned weaponry, you can watch it all in action in the trailer below.
Our Thoughts
While there aren't a whole lot of weapons currently in the Sky Noon armory, they all appear to cover the complete spectrum of playstyle preferences of FPS gamers. That said, we do hope the devs take this shooter's unique mechanics as an opportunity to craft some more unique and over-the-top air-puffing guns.
Source: press release
Articles Related to Sky Noon
Sky Noon is a Wild West Multiplayer Shoving Match in the Clouds
Sky Noon Game Page
The MMO Alpha and Beta List
Related:
FPS
,
News
,
Sky Noon
,
Trailer