In the newest Skyforge Developer Diary, Daniel Radchenko and Eric DeMilt reveal details regarding Pantheon Wars, global battles for Celestial Temples.
Pantheon Wars
Pantheon Wars are large-scale, high-end competitive fights where Pantheons (or guilds) face off against each other for glory, gold, and control over Celestial Temples. A test of both strength and skill, Pantheon Wars settle which group of gods is the best Pantheon in Skyforge.
From the developer's blog:
The Celestial Temples which Pantheons fight over, are complex structures, filled with enormous reserves of magical energy. Immortals have learned to collect this energy and use it to increase their own celestial powers, improving their stats and gaining additional bonuses to their might. However, these temples are sparse on Aelion and over the ages controlling the temples and thus, its magical energy, has turned into a competition between Pantheons, with all of Aelion's young gods thirsting for knowledge and power fighting in these battles.
Auctions determine match-ups and rewards. Pantheons bid every Saturday evening and fight throughout the week. Over time, each Celestial Temple will gain an owner, and Pantheons will have to fight to secure and defend their homes.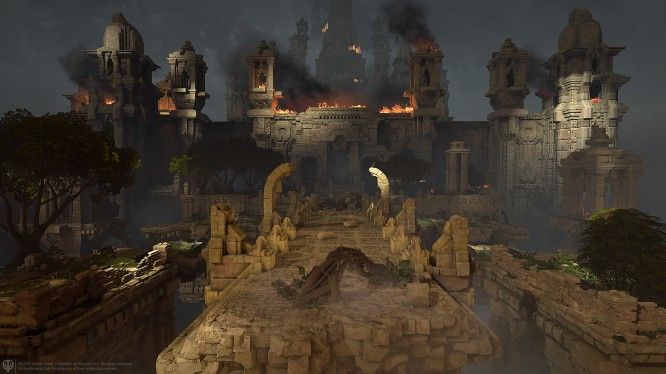 The Celestial Temple maps are impressive:
The Celestial Temple's surrounding structure is divided into individual maps intended for PvP and PvE battles. For PvE, 50 players from each Pantheon are divided into teams of 10 immortals and tasked with participating in unique raids, where they'll either defend or attack the Celestial Temple. During the raid, players have the option to either capture the other Pantheon's temple (replacing your current one) or simply plunder it, thus gaining rewards for your current temple. Likewise, if your Pantheon manages to capture a temple, it will remain vulnerable to attack, meaning you'll need to be ready to defend it at all times.
For more information, visit the official Skyforge website.
Related:
MMO
,
MMORPG
,
News
,
Preview
,
Skyforge
,
Update