If you're part of a Pantheon (or a guild) in Skyforge and you want to win an entire new zone as a prize, then the second season of the Skyforge Pantheon Wars is the event you've been waiting for. The combined PvP and PvE tournament will see which Pantheon is the best in the realm and offer benefits for the entire game's population.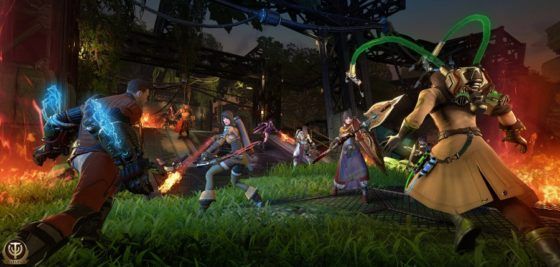 Season 2 will have several differences from Season 1. PvE and PvP qualifications have been removed, as have the final 30v30 battle and Tessa Battles. Pantheon Wars will now happen every two weeks, and the number of required Pantheon members has been lowered from 100 to 70.
The tournament will happen over four stages on eight two-week cycles, with Pantheons battling for control of Temples. Those who are successful in individual Pantheon Wars will receive Construction Resources, Primary Energy and Argents to those with the Vindicator title. At the close of the season, various rewards will be doled out including a special transport or costume to Vindicators.
If you're not participating in the Pantheon Wars, you'll still get a little something, as completion of the event will unlock the region of Thea, the largest moon of Aelion. Thea is home to an "extremely valuable resource" and will be open to every player regardless of participation. In addition to a server-wide reward, the top three Pantheons will also get to choose which classes in the game can get new talents first.
The second Pantheon Wars will begin on December 3rd. Information can be found here.
Our Thoughts
Giving a new zone as a reward for a tournament is definitely a unique way to motivate players to join in, and mixing up PvP and PvE objectives means that most players shouldn't feel left out. The Pantheon Wars sound like one of the more interesting ways to handle guild vs. guild warfare.
Your Thoughts
Are you part of a Pantheon that will be taking part in the Pantheon Wars, or are you just going to wait it out and explore Thea when it's all over? Tell us your thoughts in our comments section.
Source: official site
Articles Related to Skyforge
Skyforge Ascension Expansion Getting New Campaign Map
Skyforge: Cybernetic Alliance Arrives June 1
Skyforge Announces March of Knowledge Update
Related:
MMORPG
,
News
,
Pantheon Wars
,
PvE
,
PvP
,
Skyforge