Skyforge's next update will be going live on the 2nd of December, and it features the long-awaited Pantheon Wars! Titled War's Onset, the update will also introduce several bug fixes, class balancing changes, and the first Pantheon War Tournament.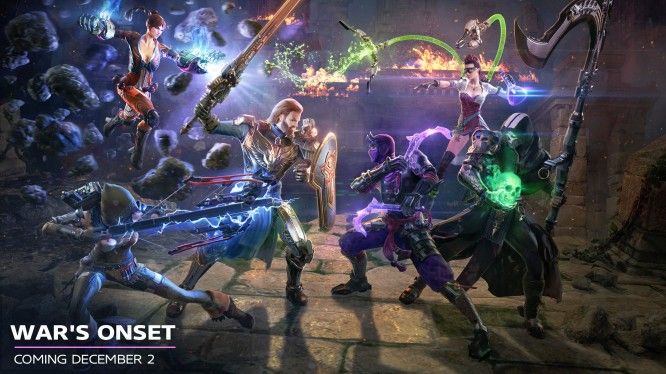 War's Onset is all about battling other players, but that could not be done without some class balancing, otherwise you'd only see the same classes playing against each other. Various classes, such as the Archer, Kinetic & Gunner, have seen their combat efficiency improved. Certain stats will be undergoing reevaluation as well, making them much more valuable compared to the generic lay-out choices.
All of this will greatly contribute to the fun of the Pantheon Wars, which are the centerpiece of this update. Pantheon's can send up to 100 of their strongest warriors to fight against another Pantheon to claim magnificent rewards just waiting for you inside Celestial Temples. These battles take place through a variety of PvE and PvP challenges, truly putting your Pantheon's abilities to the test. This will go paired with the start of the first Pantheon War Tournament! Those who successfully triumph over other Pantheons will receive real-world prizes for their dedication. More information regarding the tournament will be released in December.
You can take a look at the teaser trailer for Skyforge's December update below. And you definitely should, because it's pretty epic.
Our Thoughts
The thing we miss most when playing Skyforge is the variety in PvP possibilities, so we're very glad to see that's going to change with War's Onset! Pantheons are a very interesting concept on their own, and to see the developers put extra effort into making it even more special is fantastic to see.
Source: Press Release
Related:
Allods Team
,
F2P
,
MMORPG
,
My.com
,
Obsidian Entertainment
,
Skyforge
,
Update