Grind got you down? Looking for a new class to kick ass with? Skyforge's Deadly Steel Packs have you covered!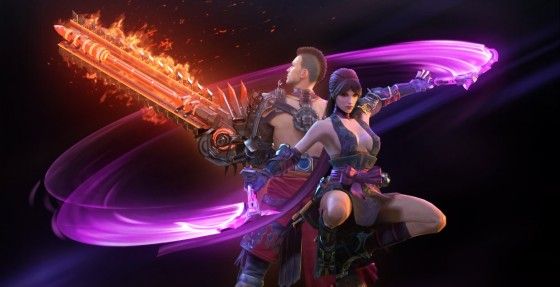 "Deep within the hallowed halls of ancient temples draped with the memory of the fallen, mysterious warriors trained in the ways of assassination and earn themselves the title of Slayer. Effortlessly, they navigated behind armies in search of their target, bending shadows to their will for both concealment and protection. All the while the opposing forces attempted to contain the unbridled rage of the Berserker, as they leaped across the battlefield obliterating all who stand in their way. Fueled by battle and the loss of comrades, these relentless savages still have little means of being controlled once they are let loose onto their foes."
Skyforge's Deadly Steel Packs are only available for a limited time from January 20th until February 3rd. With three variations available, you can choose the Berserker Pack, the Slayer Pack, or get both with the Deadly Steel Combo Pack. These will provide instant access to your class of choice, along with unique class costumes, header, Argents, Premium Account Status, and much, much more! Head here to check them out for yourself.
If you're still not sure, check out their latest gameplay trailer, showcasing the badassery that is the Slayer class.
Our Thoughts
Skyforge's Deadly Steel Packs are not the first special class-unlocking pack you can purchase, and they surely won't be the last, either. Either way, it's pretty cool that Skyforge do offer other methods for unlocking some of their classes as it can be quite the grind in game! Not to mention these packs are actually pretty good value considering all the currencies and such that they come loaded with.
Source: Skyforge
Related:
Allods Team
,
Classes
,
F2P
,
MMORPG
,
My.com
,
News
,
Skyforge