SMITE is a pretty big MOBA; too big for most mobile devices. Mercifully, the developers at Hi-Rez Studios have worked their science-magic and shrunk the popular title down to size. SMITE Rivals is looking to bring all of the gameplay of SMITE to tablets and smartphones.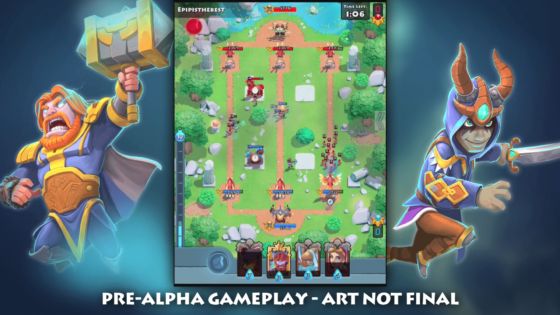 SMITE Rivals is described as a "collectible card arena", where players create a deck of Gods, Minions, Structures and Spells, then bring them to battle in a three-lane battleground against opponents. Players simply drag the card they want to activate over the lane they wish and unleash adorable, godly destruction in order to take out the enemy base.
Rivals will be available on phone, tablet or PC, and can be played interchangeably on any platform, with progress saved regardless of device. The title will release free-to-play with a launch window of early 2017, and is currently accepting signups to a playtest. A video showing off the game's current build can be seen below.
Our Thoughts
If anyone could make a MOBA in to a portable game, it's likely the folks at Hi-Rez Studios. SMITE Rivals looks both adorable as well as involved, and we're very interested in seeing how players of the game will take to this new iteration of SMITE.
Your Thoughts
Are you interested in SMITE Rivals, or do you think a game like a MOBA wouldn't translate well to mobile devices? Give us your thoughts about this story in the comments.
Source: official site
Articles Related to SMITE
First Ever SMITE PvE Event Combines MOBA and MMO
Hi-Rez Expo Event Hosts SMITE World Championship 2017
SMITE Has Passed 20 Million Players
Related:
Hi-Rez Expo
,
MOBA
,
mobile gaming
,
News
,
SMITE
,
SMITE Rivals