If you were among those interested in what the mobile version of SMITE was going to offer, then you're going to have to wait a fair while it seems. Hi-Rez's president has just announced that SMITE Rivals development is being put on hold.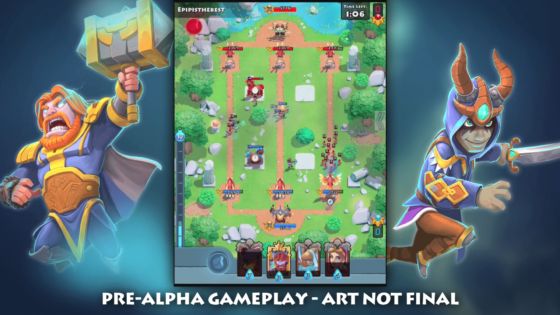 SMITE Rivals was initially announced in January as a free-to-play title due to launch in early 2017. However, according to an official statement attached to a tweet, the game appears to have not tested well. "While we are still excited by the general concept of SMITE Rivals, it was clear after early testing that the game needs significant additional development," reads the statement.
That said, not all is lost for SMITE spin-off games, as the same statement has noted that the turn-based strategy game SMITE Tactics has done well. As such, development attention will be turned towards SMITE Tactics for the foreseeable future.
Our Thoughts
While it's disappointing to know that SMITE Rivals doesn't look like it has a future, we also have to applaud Hi-Rez's decision to put the game on hold. If a title isn't fun to play or interesting to players, then why release it?
Your Thoughts
Are you disappointed at the halt on SMITE Rivals development, or do you support the studio's decision? Are you interested at all in SMITE Tactics, or do you feel Hi-Rez should devote its attention to the MOBA completely? Tell us in the comments.
Source: Twitter via Massively Overpowered
Articles Related to SMITE Rivals
SMITE Rivals Bringing "Tiny Gods, Big Fun" to Mobile
Hi-Rez Expo Reveals SMITE Celtic Pantheon, Paladins Season 1
The MMO Alpha and Beta List: March 10, 2017
Related:
Development
,
mobile gaming
,
News
,
SMITE Rivals