According to developer Snail Games, Dark and Light cities won't just be a mere spawning point for your character, nor will you simply be dropped naked and alone in the middle of the forest. Cities will provide far more gameplay opportunities in the sandbox MMO .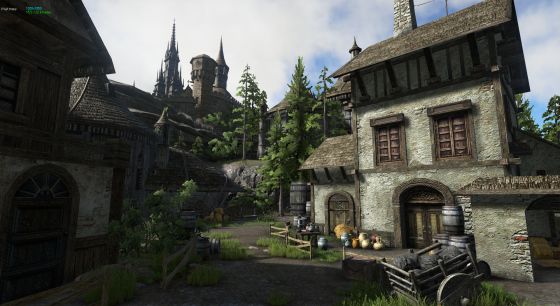 After players select their starting faction, they'll be spawned inside of a friendly shantytown which provides some shelter as well as a place to store the spoils of battle. Despite this, the shantytown itself has dangers of its own, with thieves that will try to break in to player storage and steal their loot. Players can move up in the world of Dark and Light by renting a home, which provides more storage but not precisely more security as players will still need to fortify their home from intruders.
Cities also provide a nexus for trade, as the game's bartering system allows players to take part in commerce inside of the city's confines or invest in NPC shops for better goods. Cooperation is also critical in fortifying a city's defenses.
When a certain level is reached, players can even become the lord of a city, where they'll be in command of all aspects of the city's housing, trade and defense while managing nearby farms, mines and other resources. A lord's estate features several statues of mythical beasts which can be brought to life in order to aid in defense, and lords can even attempt to wage battles against threats inside and outside of their city.
Dark and Light is set to begin Steam Early Access later this fall.
Our Thoughts
If the cities in Dark and Light are this robust, then we can only imagine what other systems will be open to us in the rest of the sandbox MMO. It sounds like this game is on its way to building a complete world, and we can't wait to see what Early Access has to offer!
Your Thoughts
Would you want to become the lord of a city, or would you rather play a wandering hero? What sort of things would you aspire to do in Dark and Light? Give us your thoughts below in the comments.
Source: press release
Articles Related to Dark and Light
Dark and Light Steam Early Access Announced
Dark and Light Business Model Confirmed
Sandbox MMORPG Dark and Light Launching This Year
Related:
Dark and Light
,
MMORPG
,
News
,
Sandbox