An online retailer may have accidentally leaked price details about the Sony Morpheus almost a year ahead of release.
Sony Morpheus VR Leak
The gaming rumor mill has been churning out a lot of myths about the Sony Morpheus VR headset. Since Sony has remained relatively tight-lipped about the system, the internet has been scrambling for something to talk about. A couple weeks ago, we received some insight regarding the Morpheus' potential game catalog. This week, gameware.at posted a placeholder page for the Morpheus, listing a tentative price. (Since page has since been removed, here is a screen cap of the page:)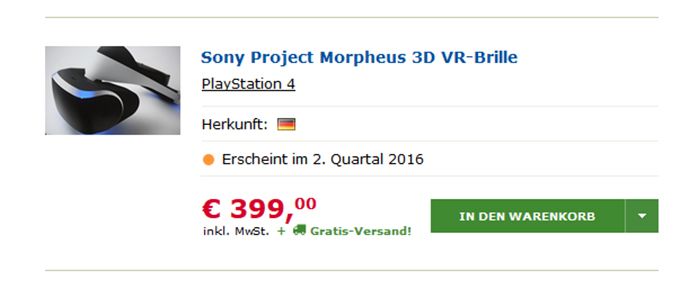 The headset has been listed with a second quarter 2016 release date; it will sell for approximately $450 USD. Hardcoregamer.com believes the VR set might exclude low-budget consumers, given its lofty price tag. They write, "While that price doesn't seem like could fly beyond the enthusiast market, it's closer to actual information than anything we've gotten so far, so maybe Morpheus is going to be a rich kid's toy." This listed price means nothing, though. When the Xbox One was announced, games were listed at $100 USD. The price is merely a placeholder.
Sony will hopefully reveal more about the Morpheus at E3. The developer/publisher has reserved a large space for the convention. They appear to be planning something big.
Related:
Developer
,
E3 2015
,
Leak
,
News
,
Sony Morpheus
,
Sony Online Entertainment