On February 1, a new online CCG will be available through Steam. Spellweaver is a next-generation, free-to-play customizable card game that combines legacy game elements with new ideas.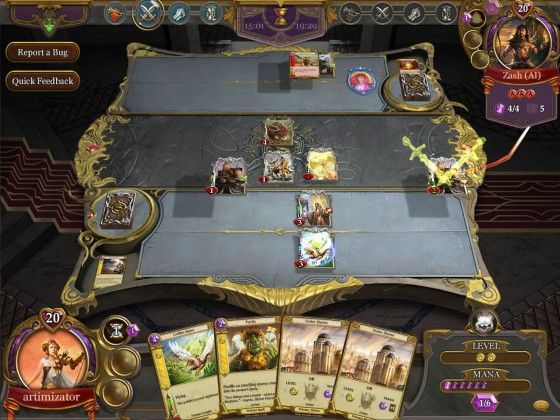 Spellweaver was created by former Magic: The Gathering champion Ivko Stanilov. It has many similar features that MTG players will recognize, but it has created an even deeper level of gameplay.
Features:
Hero Skills – 18 different heroes are available, each with their own unique ability. Additionally, each hero can equip 2 additional skills during play, allowing the creation of thousands of different hero combinations.
6 Aspects to Mix – Freely mix your hero's aspect with the 5 others for a wide variety of deck combinations. Elves with undead, wizards and priests, the possibilities are nearly endless.
Creature Speed – Creatures are comprised of 3 attack stats instead of just two. Health and Damage, as you'd find in most other games, but also
Support Line – Combat in Spellweaver primarily takes place on the front line of the playing field. However, each player has a support line in front of them as well.
World Map & Quests – Spellweaver is a free to play game with a generous supply of daily quests and rewards to earn. The team strongly believes in allowing a dedicated player the opportunity to earn enough money and cards to create any competitive deck they want.
Tournaments – With multiple different tournament styles, each with their own unique sets of challenges, there's no end to the challenges and triumphs you can experience.
Those interested checking out Spellweaver can join the open beta now or wait until the official release on February 1.
Our Thoughts:
Spellweaver is a very promising and complex CCG that fixes many of the problems typically found in the genre.
Source: Press Release
Related:
Beta
,
CCG
,
Dream Reactor
,
F2P
,
News
,
Spellweaver
,
Steam