Turns out that internet spaceships aren't the only thing up for grabs in the Star Citizen store. RSI has recently unveiled the Tumbril Cyclone, a ground-based vehicle with several configurations that players can purchase right now.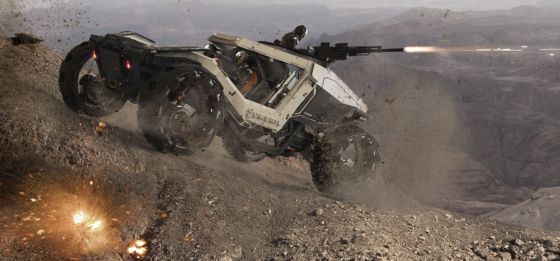 The vehicle's sale page touts the Cyclone as a versatile, maneuverable and powerful vehicle with features that allow it to manage multiple terrain types and configurations for a variety of situations. The Cyclone is a two-seater, granting one player the ability to drive the vehicle while the other manages systems and additional modules based on the Cyclone's loadout.
The Cyclone is available in five different types, with features for recon, security, or even warfare with a surface-to-air missile launcher. Prices of the Cyclone range between $40 and $70. More details can be seen on the Star Citizen website.
Our Thoughts
We're likely going to see a spike in ground-based vehicle releases, as the launch of the Cyclone sent crowdfunding into a huge spike during the vehicle's pre-sale on July 20th and beyond into July 21st. So, prepare for more car adverts from RSI!
Source: official site
Articles Related to Star Citizen
CIG Responds to Star Citizen Bank Ownership Assumptions
Star Citizen Development Challenges Explored in Report
The MMO Alpha and Beta List: July 21, 2017
Related:
News
,
Sandbox MMO
,
Star Citizen
,
Store