Star Citizen 3.0 isn't quite live yet, but it most definitely appears to be approaching a playable state according to CIG's Gamescom 2017 demonstration. The over two hour long presentation demonstrated a variety of new tech and gameplay features being added to the in-development space sandbox.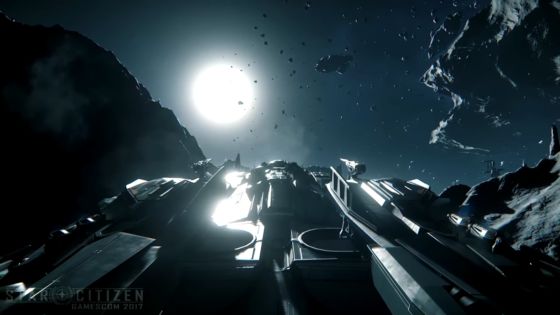 3.0 will introduce more levels of persistence to Star Citizen, meaning character items and ship damage will be maintained once you've logged out of the Persistent Universe. The demonstration also showed off Star Citizen's new facial capture technology, allowing players with webcams to translate their facial expressions to their in-game avatar. According to a post about the feature on the official website, the new tech will also allow your voice chatter to be broadcast in 3D space in-game.
The lengthy demonstration provided a look at a series of activities starting from the moment of one person's waking up all to a coordinated effort on a multi-crew ship. The demonstration did have at least one particularly powerful bug which saw one of the players crash, showcasing the challenge of what Chris Roberts called "the most high level of coordination difficulty demo ever done" by the team.
Bugs notwithstanding, get comfortable and take in the immense video below.
Our Thoughts
A lot of the demonstration was pretty clearly staged (except for the crash), but otherwise certainly showed off a huge amount of potential. We're definitely curious about what players have to say about 3.0 as well as the new facial recognition technology, so feel free to share your thoughts below.
Source: YouTube
Articles Related to Star Citizen
Star Citizen Addresses 3.0 Production Schedule Shifts
Star Citizen Begins Selling a Rover
CIG Responds to Star Citizen Bank Ownership Assumptions
Related:
Gamescom 2017
,
News
,
Sandbox MMO
,
Star Citizen
,
Video