Star Citizen. It conjures images of crowd funding gone wild, of gorgeous starships and huge prices for exclusive limited quantities of those beautiful ships. Speaking at the BAFTA Los Angeles Games Masterclass, Chris Roberts has given everyone some more details on the release timeline. (For the impatient, skip around 40 minutes into the presentation)
This should help people decide the next time there is a ship sale if the release schedule is good enough to get them to buy in and back earlier rather than later.
Cloud Imperium Games through Roberts Space Industries plans to release a beta of the FPS module as well as a beta launch of the Planetside and social components.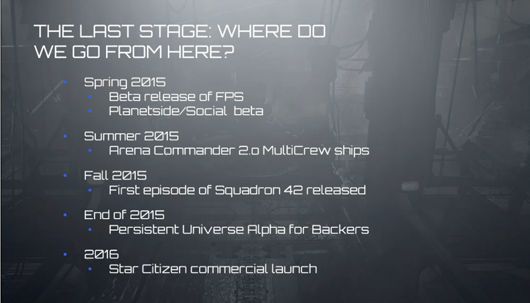 Later this year Squadron 42, legendary volunteers that they are, will have the first episode released. This is the single player campaign that takes place in Star Citizen.
Finally backers of Star Citizen can look forward to the alpha launch of the persistent universe alpha before the end of this year. The rest of the budding pilots not currently in Elite: Dangerous or simply hedging their bets can look forward to a commercial launch in 2016.
Star Citizen have also launched an official trailer for Arena Commander 1.0 if you are lacking sufficient spaceship combat in your life.
Related:
Release Date
,
Star Citizen