The third expansion for Star Trek Online is now available for free to all players. Agents of Yesterday celebrates the 50th anniversary of Star Trek: The Original Series by sending players back in time to become a captain of the past era, soar in historic starships, and experience all new content inspired from the television series.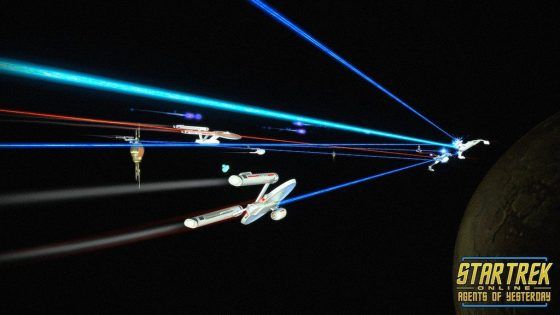 In order to save the future, Star Trek Online players must travel to the past. In Agents of Yesterday, players can create a brand-new captain to command classic starships, including the Enterprise, during the time period of The Original Series.
Complete list of features for Agents of Yesterday:
New Episodes – Players can access the new tutorial section to start their journey as a Captain from Star Trek: The Original Series and experience over a dozen new missions.
New Starships – Agents of Yesterday includes over a dozen new starships from every era, from the famous 23rd Century Constitution-class Cruiser to the 31st Century Chronos-class Temporal Dreadnought.
New Specialization Tree – After becoming a Temporal Agent, players can manipulate time to ensure the timeline is protected against those trying to destroy the past.
New Special Task Force Missions – This new feature allows Captains to team up with other members of the community to take on all-new challenges in space and on ground.
An All-Trek Cast – The expansion features Chekov, Daniels, and more characters straight from the TV shows and movies voiced by the original actors.
New Universe to Explore – Agents of Yesterday features content, actors and themes from the Kelvin Timeline, the universe which the 2009 and 2013 Star Trek films are based on.
Our Thoughts:
What a perfect time to launch a brand new adventure in Star Trek Online. As of this September, Star Trek: The Original Series will celebrate its 50th anniversary, and STO players will get to interact with the show that started it all in an exciting new way.
Source: Press Release
Recent Articles Related to STO
Star Trek Online Kelvin Timeline Previewed
Star Trek Online Prepares For Consoles and the 23rd Century
Related:
Expansion
,
MMORPG
,
News
,
Perfect World Entertainment
,
Star Trek Online