Chase Masterson, who voices Admiral Leeta in Star Trek Online: Season 11 – New Dawn, dropped by Cryptic Studios to discuss her role in the new season of STO. In an interview with the executive producer of the game, Steve Ricossa, the Deep Space Nine actress opened up about the new season and revealed what it's like to play the Mirror version of the Bajoran dabo girl.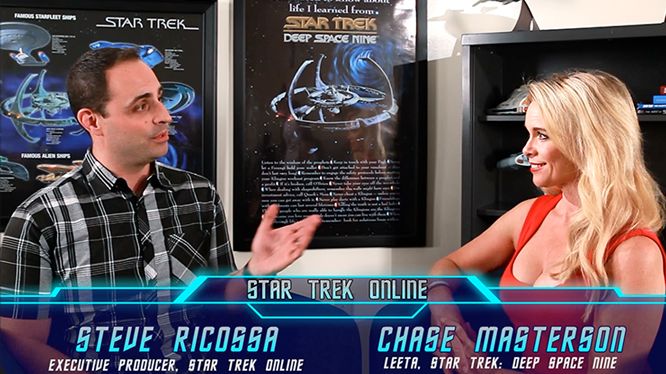 The two new featured episodes that come with Season 11 of Star Trek Online, Sunrise and Stormbound, will allow players to discover a previously unknown civilization on the brink of disaster. Also, it is the time to uncover the identity of a mysterious time-traveler. Meanwhile, Admiral Leeta is leading an offensive into the prime universe. Together with the Terran Empire, she is organizing an attack against the Badlands and Deep Space Nine.
In the interview, Chase Masterson talks a little bit about what it's like to be behind the scenes of development for Star Trek Online, but the main point she made is that there isn't a lot of Star Trek at the moment. She states that Star Trek Online is the place to have more Star Trek, as players can explore deeper storylines in the universe by being the captain of their own ship. It's keeping the franchise alive, according to Chase. But really, it's probably for the best if you watch the interview below.
Our Thoughts
We totally agree with Chase Masterson that there simply isn't enough Star Trek these days. Though with the announcement of a new series in 2017, we have hopes that we'll get to know even more about the vivid universe. Until then, there's still Star Trek Online to venture in to find out more about one of the most beloved franchises in the world.
Source: Press Release
Related:
Cryptic Studios
,
F2P
,
Interview
,
MMORPG
,
News
,
Perfect World Entertainment
,
Star Trek Online