It's been more than 10 years since the last Star Trek series aired, but fans of the franchise are finally getting something to look forward to. CBS recently announced that a completely new Star Trek series will be premiering in January 2017, and to celebrate Star Trek Online is holding a giveaway event.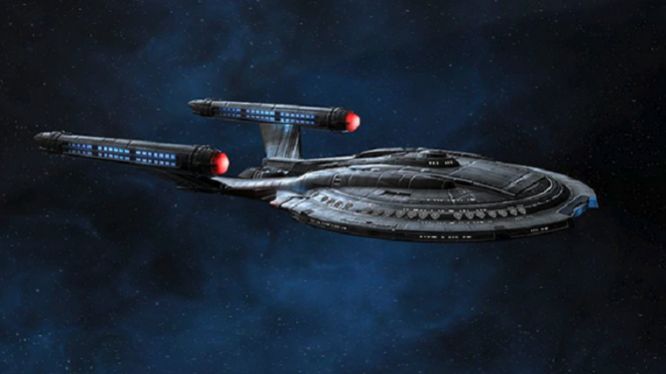 "A brand new Star Trek TV show was just announced today by CBS, and everyone here at Cryptic Studios and Perfect World couldn't be happier. As lifelong fans of the show, we've been waiting with bated breath for our next chance to enjoy weekly episodes of a new ship and crew facing the outer reaches of the final frontier."
Star Trek Online brings together players from all over the globe to explore new worlds and galaxies. Since the last Star Trek series that aired was Enterprise, players that log in between now and November 4 will receive a free Enterprise Era Bundle Pack.
Included:
Free Enterprise Era Bundle Pack
This pack includes the NX Enterprise starter ship, the standard and mirror variant uniforms, and the T'Pol jumpsuit.
It will be available as a free account unlock from today at 10:30am through Wednesday November 4th at 10:30am.
We will be running a bonus XP week from today at 10:30am through Monday November 9th at 10:30am.
The new Star Trek series will include new characters, worlds, and adventures while still maintaining the original theme of the franchise. Additionally, it is the first original series developed for the new CBS All Access streaming service.
"There is no better time to give Star Trek fans a new series than on the heels of the original show's 50th anniversary celebration," said David Stapf, President, CBS Television Studios. "Everyone here has great respect for this storied franchise, and we're excited to launch its next television chapter in the creative mind and skilled hands of Alex Kurtzman, someone who knows this world and its audience intimately."
Our Thoughts:
Star Trek is an iconic television series that has transcended generations. The most recent Star Trek movies have reinvigorated the series for older fans while bringing a new generation into the fold. Hopefully the upcoming television show can do the same.
Source: Perfect World Entertainment, Star Trek
Related:
Cryptic Studios
,
MMORPG
,
Perfect World Entertainment
,
Star Trek
,
Star Trek Online