The Star Trek Online STLV panel has had a lot for fans of the MMO to chew on today, including some new information about what's headed for the game in the next few months and even a tease at what's arriving for Summer of next year.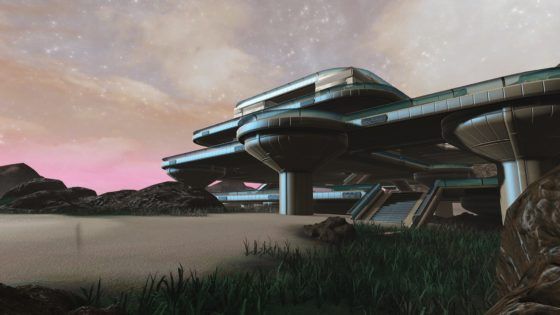 The panel opened up with some nods to the 30th anniversary of Star Trek: TNG, announcing that every player in September would be receiving a Skant cosmetic item and a TNG-styled shuttle. In addition, a new TNG-styled bridge for the Galaxy-class ship will become available. A new episode "Beyond the Nexus" will also debut in September and feature Geordi La Forge, voiced once more by actor Levar Burton.
A new Fleet Holding was also revealed during the panel. The Colony is a joint effort by the Lukari and Kentari to work together and merge their differing technologies. The Colony is described as the first since Starbase to have a full five tiers and is the size of a full standard episode map with "lots of nooks and crannies to explore". The Colony will also offer a new kind of event that Fleet can reportedly run for themselves.
Finally, the panel offered a sneak peek at Season 14, which is coming this October, along with an advance tease of content arriving Summer 2018. That sneak peek can be seen in the embedded video below.
Season 14, coming this October. Gert your first look now. pic.twitter.com/ycO1CnLu0L

— Star Trek Online (@trekonlinegame) August 3, 2017
Our Thoughts
Looks like the next couple of months are going to be pretty busy for STO fans! We're definitely excited to learn more about what's coming down the pipe and we anticipate further details will be revealed as we move into Autumn and onward.
Source: Twitter
Articles Related to Star Trek Online
Star Trek Online Season 13 Gets a Mid-Season Content Update
F2P Kingdom: Star Trek Online Free to Play is Just Fine
Star Trek Online Escalates Season 13 to Console
Related:
MMO
,
News
,
Panel
,
Star Trek Online
,
Updates