Today Star Trek Online Rise of Discovery launched on PC, bringing Captain Gabriel Lorca and Commander Ellen Landry to the MMO. They are of course voiced by Jason Isaacs and Rekha Sharma from the Star Trek Discovery TV series.
In the first season of Star Trek Discovery, we were introduced to Captain Lorca with very little detail on his past and how he came to be in command of the USS Discovery. Now, in Star Trek Online fans will get the opportunity to find out more about his past. Rise of Discovery takes place just one month after the Battle at the Binary Stars. The update features two new episodes, introduces a new tier 6 reputation called "Discovery Legends," and more.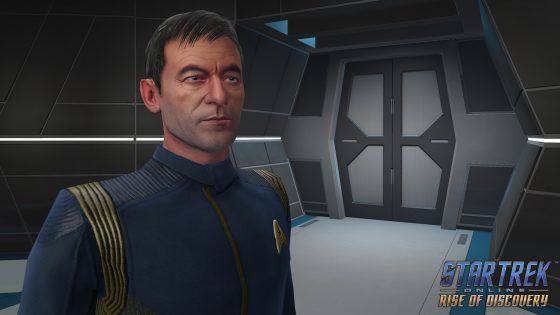 Discovery Legends will allow players to earn Discovery themed rewards and all of the Discovery Task Force Operations will now feature Advanced and Elite versions that have been converted to support this new reputation and pay out Discovery Legend Marks.
Plus, starting today level restrictions have been removed for Tier 6 starships. This goes into effect on all platforms; PC, PS4, and Xbox One at the same time. Premium ships will scale to the player character's level for the first time in STO history.
While this update launches today on PC, console players will have to wait until June 25th to get everything Rise of Discovery has to offer.
Also, to celebrate the release of Rise of Discovery Star Trek Online is teaming up with Star Trek: The Cruise and SteelSeries for an exclusive giveaway. From now until May 26th players can visit the Star Trek Online blog for a chance to win a cabin for 2 aboard Star Trek: The Cruise IV, a seven day cruise across the Caribbean with Star Trek stars like William Shatner, Kate Mulgrew, Jonathan Frakes, and Ethan Peck, just to name a few. The grand prize winner will also receive every starship currently available in the C-store on PC and a sweet prize pack from SteelSeries.
Source: Press Release
Related:
News
,
Perfect World
,
Star Trek Online
,
Update