Perfect World Entertainment and Cryptic Studios have announced that Star Trek Online Season 11.5 is now live. The mid-season update introduces Temporal Front, a new featured episode, as well as a number of changes to the game's skill system, graphics, and content.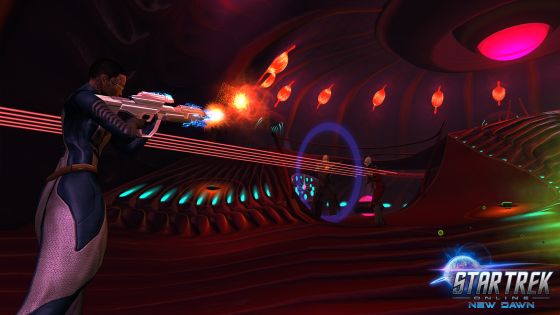 The new featured episode, Temporal Front, pits players in an action-packed new adventure against the time-traveling Na'Kuhl. The Temporal Front episode begins with players attending a peace summit at a Romulan Embassy, where leaders have gathered to discuss an alliance. However, the Na'Kuhl attack the embassy, and the adventure begins. In Temporal Front, players will travel to the future and fight the Na'Kuhl, to prevent them from traveling through time and destroying the Federation. In addition to the Temporal Front storyline, new Na'Kuhl Red Alert events have been added; these events are random in-game events which sound an alert and enable players to queue up in teams of five to face off against the Na'Kuhl… and perhaps, win some shiny rewards. Lastly, a new Temporal Front trailer has been posted on the official Arc YouTube channel, which hints at some of the elements of the story players can expect to experience.
Star Trek Online Season 11.5 introduces a number of gameplay changes and updates as well. The skill system has received a complete revamp; skill progression has been streamlined and designed to be more rewarding and more descriptive, and easier for newer players to understand. Visual slots have been added, which will enable players to change their starship's appearance without affecting its performance. A strategist secondary specialization has been added to the game, which allows players to choose a number of special abilities which can be used both offensively and defensively, and is intended to allow players to have more tactically diverse choices. And, rounding out the major changes, a Romulan Admiralty Campaign has been added to the game, which allows players to earn special rewards by completing a new series of special assignments to assist the Romulan Republic.
Star Trek Online is free to play, and like all previous updates, Star Trek Online Season 11.5 is free as well.
Our Thoughts:
STO is a great game, and Perfect World are a load of fun to work with. We've learned to expect only the best from expansions and updates to Star Trek Online, and this one promises to be no exception; this author is very much looking forward to taking a spin in her Avenger and seeing what's what with these Na'Kuhl!
Source: Press Release
Related:
Arc Games
,
Cryptic Studios
,
News
,
Perfect World Entertainment
,
Star Trek Online
,
Update