There are a lot of things Star Trek Online players could do to their starships; explore the known galaxy, battle threats, cross through time. One thing that players couldn't do, however, is pet their ships. That is soon to change, however, as new Star Trek Online 3D-printed statues will let fans collect their favorite ships from the game in fully physical, completely pettable form.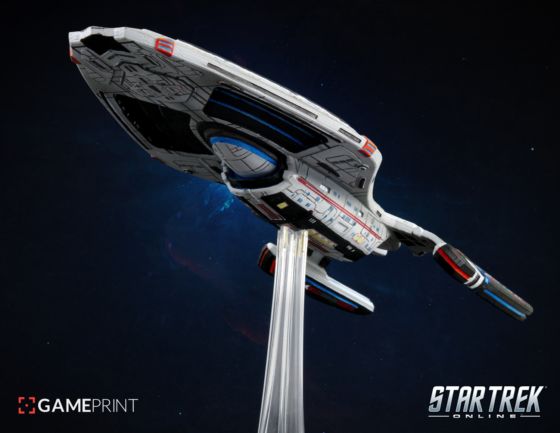 A combined effort of Perfect World and Mixed Dimensions, the new starship statues are 12 inches in size and made of high-end resin, and will grant fans the opportunity to have nearly all of the game's over 500 ships 3D-printed and ready for display.
Players can take their in-game designed starship and upload the model to a special website to have their favorite star-faring craft brought to life. The statues can either be hand-painted with your chosen custom colors, finished in a single color, or arrive pre-primed for those who would rather paint it themselves. There will also be classic models of 20 of STO's most popular ships.
"We are absolutely elated to expand Star Trek Online to the physical universe," said Stephen Ricossa, executive producer for Star Trek Online. "We can't wait to see the reaction from our captains when the first wave of ships begins to roll out."
Pricing and other details of this new merchandise is expected to be revealed soon, while the actual ship statue printing service itself will arrive to fans sometime in March.
Our Thoughts
Now this is a merchandise idea we can get behind. For players who have a close connection to their Star Trek Online starship, this new statue printing service sounds awesome. Heck, even if you're just a fan of the series, this sounds like a brilliant collectible!
Source: press release
Articles Related to Star Trek Online
Star Trek Online Prepares to Celebrate Eight Years
Star Trek Online's Season 14 Console Release Date Confirmed
F2P Kingdom: Star Trek Online Free to Play is Just Fine
Related:
Merchandise
,
MMO
,
News
,
Star Trek Online