Stardate: random series of numbers broken up by a hyphen. The admiralty of Perfect World Entertainment has deployed new orders to console captains of Star Trek Online to report to the Gamma Quadrant on a new mission with some old friends. This operation is being called the Victory is Life console launch. Cue the music.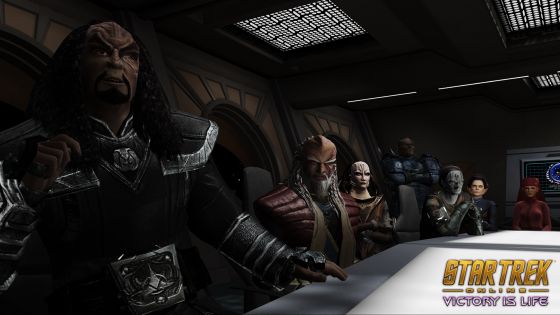 Just like every other release up to this point and ones we've alluded to again and again, this update brings all of the PC goodies to console players as they take on a story with a number of the original Deep Space Nine cast. There's also a new Battlezone in the Gamma Quadrant, a new level cap of 65, the Jem'Hadar playable faction, and a revamped interior of the DS9 space station.
Players who also decide to create Jem'Hadar captains during the first six weeks of the update's release can join in on a Jem'Hadar recruitment system, where challenges await to be completed that will unlock extra character and account-wide rewards.
"This is an expansion that the team has been wanting to build since the launch of Star Trek Online," wrote executive producer Stephen Ricossa in a blog post. "We're so proud to be able to deliver it during the 25th Anniversary celebration."
Those who would like to learn more about the update from Mr. Ricossa can do so on the aforementioned blog post at the Star Trek Online website, or you can take a moment to enjoy the launch trailer for the new console content below.
Our Thoughts
Honestly, there is not a whole lot to expand upon regarding this release that hasn't already been said before. All that there is left, then, is to once more wish players of Star Trek Online on PS4 or Xbox One a good time as they explore this new region of digital space and the storyline awaiting them there.
Source: press release
Related:
Console
,
MMO
,
News
,
Star Trek Online
,
Update