While the CBS All Access show Star Trek Discovery's next season isn't due to arrive for a while yet, Star Trek Online sees no reason to not celebrate the series with its next update. PC players can now mark their calendars for the Age of Discovery launch date of Tuesday, October 9th.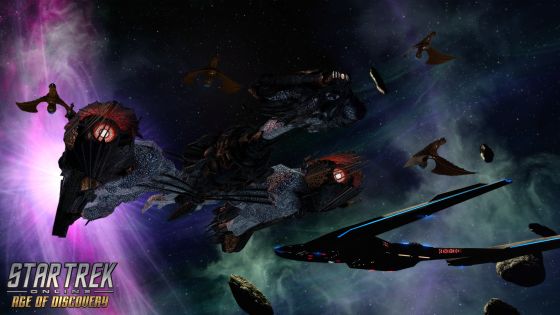 The Age of Discovery lets players start fresh from a new timeline based on the Discovery series' era, or they can look forward to the addition of new Reputation Tiers, a new Task Force Operation, and a variety of other gameplay features.
The blog heralding the update's arrival also promises the start of a new story that will have ramifications for the entire MMO. These ramifications will likely play out over the next several planned updates, which are said to bring more characters, starships and locations from Star Trek Discovery into the game.
As for those of you playing Star Trek Online on console, you'll have to wait until sometime this fall before the Age of Discovery starts on your chosen platform. For now, expect more updates as September wraps up.
Our Thoughts
Ramifications that spread out into the rest of the game, eh? It'd be really nice if people in the world of Star Trek would stop playing heck with space-time so there's not so much confusion. All kidding aside, we're very curious to see what this update has to offer and hope fans of STO and Discovery are eager to get started.
Source: press release
Related:
Launch Date
,
MMO
,
News
,
PC
,
Release Date
,
Star Trek Online
,
STO
,
Update