Electronic Arts today announced that the Star Wars: The Old Republic Anarchy In Paradise chapter has been released. Anarchy in Paradise is the next chapter in the ongoing episodic Star Wars: The Old Republic – Knights of The Fallen Empire storyline.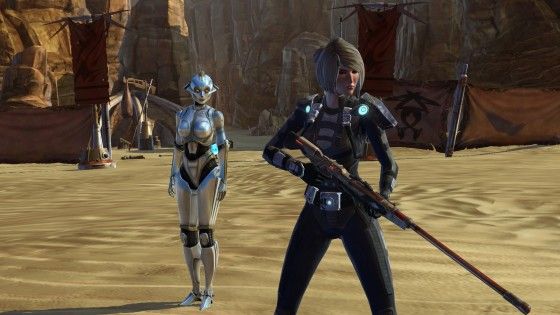 Anarchy in Paradise is the first in a series of seven chapters which are scheduled to release once a month, and it introduces a character named Firebrand, a mercenary who is on a mission to destroy the Eternal Empire. Firebrand joins the Alliance, which leaves the decision of just how far they are willing to go to destroy the Eternal Emperor up to the Outlander. The Knights of the Fallen Empire storyline began last fall and added some game changes, the most noteworthy of which is the ability for players to create a new character and begin play at level 60. Subscribers to Star Wars: The Old Republic will receive Anarchy In Paradise and all subsequent chapters for free, and players who were subscribers as of February 11 will receive HK-55 as a permanent personal companion. In addition, on the first of every month between February and August 2016, subscribers will receive a gift item themed to HK-55's gear and weapons. Lastly, players who maintain a subscription from January 11 until August 1, 2016, will receive an invitation to play in a bonus chapter, which they can play through as HK-55.
Players interested in reading more about Anarchy In Paradise should read the official press release.
Our Thoughts:
Star Wars: The Old Republic is very much a living game; updates and chapters and things are released very regularly, and that keeps the game fun! Some people have criticized the fact that the free to play model used by SWTOR definitely favors subscribers, but that money goes for these very developments and updates; pretty good use of it, I think!
Source: Press Release
Related:
Bioware
,
Expansion
,
News
,
Star Wars The Old Republic
,
Update