BioWare and Lucasfilm have announced the release of the next chapter in the Knights of the Fallen Empire expansion story for Star Wars: The Old Republic. Titled Anarchy in Paradise, the chapter will be available on February 11, 2016. It'll be the first in a series of seven new chapter that build on the personal story of the Outlander.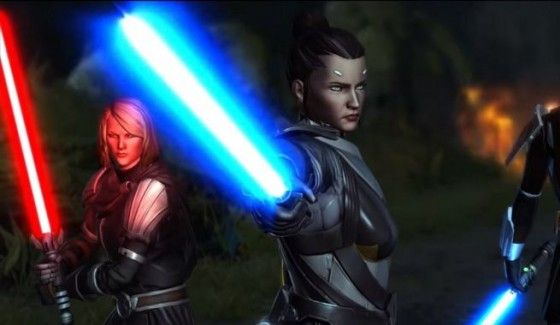 Though the announcement of this new chapter is fantastic in its own right, it all gets even more fantastic if you're a subscriber of the game as all existing and future chapters of Knights of the Fallen Empire will be completely free for the duration of your subscription. New players will be able to immediately jump into the evolving story of Knights of the Fallen Empire at level 60 as well.
Anarchy in Paradise Features and Rewards Program
Anarchy in Paradise will introduce a brand new ally; an infamous mercenary known as Firebrand. Her mission is to destroy the Eternal Empire by attacking Zakuul and crushing the seat of power, the Eternal Throne, by any means necessary. It's up to the Outlander to decide just how far he or she is willing to go to beat the Eternal Emperor. Players will experience grim consequences of their past decisions and embark on a dangerous journey.
BioWare also announced a brand new subscriber rewards program, which offers players a series of unique monthly in-game reward items themed to the HK-55 Assassin Droid. Players who are subscribers on January 11, 2016 will receive HK-55 as a permanent personal companion. Those among the Subscribers on the first of each month, from February through August 2016, will receive an in-game reward item themed to HK-55's gear and weapons along with two-day Early Access to the chapter releasing that month. Subscribers on the 1st of February will receive the HK-55 inspired Jetpack Mount as well, which is built to withstand the harshest of conditions as players hover their way through the galaxy. The best of all, however, is only available to players who stay subscribed through the period of January 11 to August 1, 2016. These players will be invited to play a bonus chapter, in which they'll be able to play as HK-55. How cool is that?!
To find out more about the Knights of the Fallen Empire expansion pack, you can visit the official Star Wars: The Old Republic website. Also, you can watch the Firebrand teaser for Anarchy in Paradise below.
Our Thoughts
Subscribers will be subscribers, no matter if there are extra rewards linked to it, but it's still a nice gesture from BioWare to give these players something extra, alongside the free chapters of the Knights of the Fallen Empire. We can't wait to see what Firebrand is capable of either; fortunately the wait is almost over.
Source: Press Release
Related:
Bioware
,
Expansion
,
Knights of the Fallen Empire
,
MMORPG
,
News
,
Star Wars The Old Republic
,
Subscription