A post on the RIFT forums have offered details on the four methods for Starfall Prophecy power upgrades, giving players a look at what awaits at the new end-game.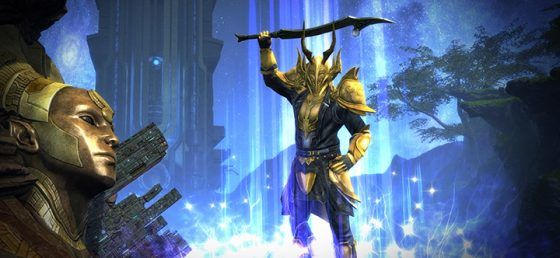 Lead systems designer Andy Kirton provided a peek at four different progression paths that will arrive with the Starfall Prophecy expansion. The first is Active Upgrades, which allow you to level up a weapon by completing different quests. "As an example," says the post, "if we wanted you to upgrade your mace from Tenebrian Maul to say, 'Drathgar, Maul of Undead Slaying' you would need to kill a certain amount of undead with it along with meeting other requirements."
The second is Eternal Items, a new rarity of item with artifact-tier power. Eternal Items can already be of Eternal quality or can achieve Eternal quality through Active Upgrades. Eternal Items are listed as incredibly rare, with most players likely able to only have one Eternal Item at maximum.
The third, Planar Fragments, is designed with the intention of removing the need for different gear sets to match different roles. Planar Fragments let players add stats they want, and can be swapped on command like wardrobe items.
Finally, Legendary Powers will let Ascended achieve new versions of their existing powers. "For instance, an ability that is normally a 6 second channel that doesn't allow movement might become a 3 second channel with double the ticks, allowing movement, and also applies all of a certain type of buff to you instead of needing to individually cast each one," says the post.
Complete details on what upgrades are available for players in Starfall Prophecy can be read on the forum post.
Our Thoughts
The different ways players of RIFT will be able to improve their characters all sound impressive and involved. What's not ultimately clear is which upgrade is more powerful than the others. More details should be revealed as we get nearer to the launch of Starfall Prophecy, so we'll wait and see what details come next.
Your Thoughts
What do you think about the four different power upgrades coming in Starfall Prophecty? Tell us your thoughts in the comments below.
Source: Official forums
Articles Related to RIFT
RIFT Showcases the Gedlo Badlands in a Starfall Prophecy Zone Preview
RIFT's Starfall Prophecy Expansion Announced
Top MMO News: April 15, 2016
Related:
News
,
Progression
,
Rift
,
Starfall Prophecy