Sunfest returns to Trove to celebrate the height of summer. The event is running until July 22nd and can be played right now!
While the event is running when you first head into the hub you'll be asked by Qubesly to select the house you would like to represent during the event.
House Pinatea – This pinata themed house provides magic find to members that display its banner.
House Tysorion  – This Trovian house provides jump to its banner holding patrons.
House Carys – This Golden Vale themed house provides movement speed to its banner holders.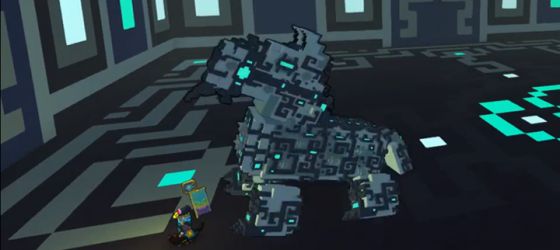 Once you've picked your banner you will be given a quest to help protect the statue and fend off invaders. From time to time a mysterious portal will open up where you can find the Moon Touched Pinata God. Your house will also be looking for donations throughout the event to help rebuild and protect the Sungoddess statue. A special event leaderboard will be available as well.
Spawn of the Moontouched Menace have the opportunity to drop an exclusive, event only mount, the Armored Abyss Assailant.
Once you've completed the questline you'll receive the mount and a permanent house banner to display. While you have your banner equipped you'll earn special bonuses including a Tysorian Pup, a Party Pup, and a whole lot more.
At the end of the event all Sunfest specific currencies and temporary banners will vanish from the game. So make the most of them while you can before the event comes to an end on July 22nd.
Source: Official Site