Vehicle-based games are rare so when Switchblade graced our inbox we knew had to talk about it. Switchblade is a 5v5 team-based MOBA where all the combat takes place with heavily armed sci-fi vehicles in a massive arena. The game is currently in Early Access and is being developed by UK development team Lucid Games. You can find it on Steam right now and Playstation 4 is scheduled very soon.
From a development standpoint, the move to free to play also represents a transition from Early Access to beta. Of course, this can't quite be accurately displayed in places like Steam. For them being in beta means that the game is effectively feature complete. Beta is about getting player feedback, squashing bugs, and introducing more content.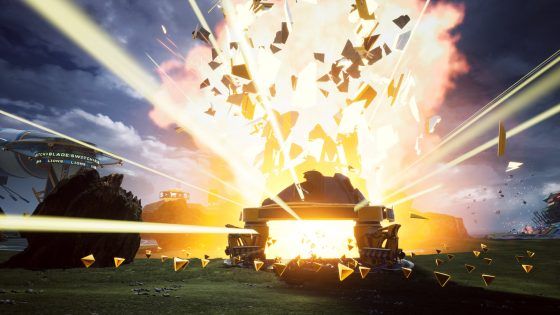 If you're interested in learning more about the game there will be a developer livestream tomorrow, January 23rd at 3 PM GMT on Twitch. They don't have an agenda planned for the livestream but they will be there to answer player questions, celebrate the launch of free to play, and giving away some in-game currency. If you have a question already in mind send them a tweet and they'll be sure to answer it on stream. This is especially great since 3 PM GMT is 10 AM Eastern so there's a good chance you won't be able to watch the stream live anyway. Thankfully the livestream will be available on social media after it wraps up so you'll be able to watch it whenever you get the chance.
If you're interested in giving Switchblade a try head over to Steam where you can grab it for free. If you haven't already seen it be sure to check out the brand new, explosion-packed trailer below.
Source: Press Release, Official Blog
Related:
Beta
,
Early Access
,
F2P
,
Free to play
,
MOBA
,
News
,
Switchblade