The launch date for Sword Coast Legends – the highly anticipated party-based Dungeons & Dragons RPG – has been set back to give the developers just a little more time to fine tune the engine. The game is now scheduled to launch Tuesday, October 20th for PC, Mac, and Linux, and Q1 2016 for PlayStation 4 and Xbox One.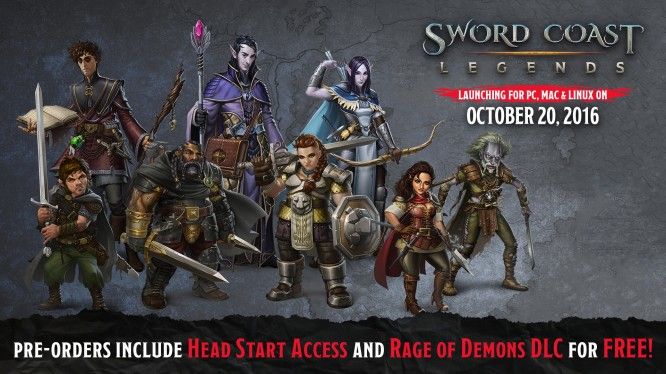 Head Start access saw more than 15,000 players logging thousands of hours of playtime in Sword Coast Legends, clearing dungeons and creating all sorts of great customized adventures. However, following feedback, n-Space have decided to push the launch back by just a little to focus efforts on polishing the game in order to give players the best possible game play experience when it releases.
"When we set out to create Sword Coast Legends we wanted to give players an exciting new way to experience the magic of playing D&D with friends," said Dan Tudge, President of n-Space and Director for Sword Coast Legends. "The decision to delay the launch of Sword Coast Legends was not an easy one to make, but after receiving feedback from our dedicated community, it became clear that a few more weeks of polish would provide our customers with the best possible experience at launch."
As a thank you from the developers, all players who have pre-ordered Sword Coast Legends will get the upcoming Rage of Demons DLC for free, as well as access to any Head Start access programs coming up. And yes, you will get these bonuses whether you participated in the recent bonus Head Start event or not.
Sword Coast Legends is still available for pre-order from Steam and the PlayStation Store for $34.99, with Digital Deluxe and Collector's Editions also available from the official website.
Source: Press Release
Related:
Launch
,
News
,
RPG
,
Sword Coast Legends