During the most recent SWTOR developer livestream, several pieces of content coming with the Knights of the Eternal Throne expansion were previewed, including hints at the upcoming chapters, new skill animations and details of several new features arriving to the game.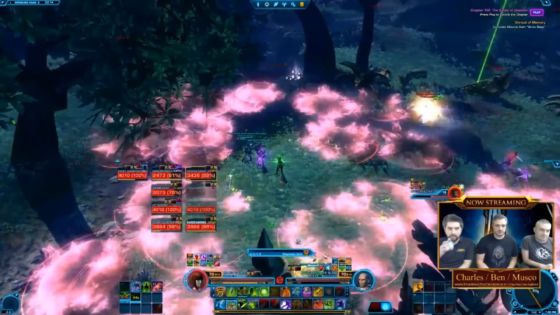 KOTET's nine chapters will take place on two new planets, Iokath and Nathema, with Nathema providing backstory on Arcann and Vaylin. The new chapters will introduce some new gameplay elements, such as piloting a walker or going undercover as a Zakuul knight. Repeatable chapters will also be introduced from both KOTFE and KOTET in two difficulty modes, with a third being added in January.
The stream also provided some insight in to the Galactic Command system. The content in question is subscriber-specific, but the devs will consider adding non-subscribers at a later time. For now, the Galactic Command will allow eligible players to earn Command Experience Points from activities like PvP or Operations, which nets them Command Crates. Each Crate can contain random gear ranging in rarity from green all the way to the new Legendary tier. With RNG being so closely tied to the Command Crates, the devs stated they will keep a close eye on making adjustments if drops are underwhelming.
Uprisings were also given detail. Described as faster paced than Operations, Uprisings also come in two difficulty levels at launch with a third difficulty coming in January. Uprisings are a part of Galactic Command content and will become available at level 70.
The team also provided information about Dark vs. Light including a peek at one of the public events that spawn, took questions from the community, brought up features coming up in the game's Life Day and 5th anniversary events, and also went over the animations coming with each sub-class' new skills. The full briefing of the event can be read here, or you can watch the complete broadcast below.
Our Thoughts
KOTET looks to be adding a lot to SWTOR, but we're still very concerned about Galactic Command. Earning Crates could potentially be a long grind, and the randomness of earned gear might make the entire process as frustrating as the current Artifact experience in World of Warcraft is. We'll have to wait and see how it all plays out once the expansion goes live.
Your Thoughts
Are you looking forward to KOTET? Do you share the same concerns about the Galactic Command system? What part of the expansion's content are you most excited for? Tell us below in the comments.
Source: Dulfy
Articles Related to Star Wars: The Old Republic
SWTOR Devs Discuss Knights of the Eternal Throne Class Changes
Dark vs. Light Expands in SWTOR Galactic Command
SWTOR Knights of the Eternal Throne Trailer Debuts
Related:
Knights of the Eternal Throne
,
Livestream
,
MMORPG
,
News
,
Star Wars The Old Republic