Star Wars the Old Republic have revealed their plans for December events and some upcoming additions to the subscriber rewards program. It's getting all wookiees and robots in here.
SWTOR Subscriber Rewards Program
First off, the SWTOR subscriber rewards program is seeing a return. BioWare announced their plans during a recent producer's livestream for the New Year. Star Wars the Old Republic players who are subscribed on January 11, 2016 will receive the HK-55 companion, a personal Assassin Droid, which will be added to the game with Chapter 10 on February 11th and will be with players once they complete Chapters 1-9. What's more, you can gain access to HK-55 on February 9th, 2 days earlier, if you're subscribed to SWTOR on February 1st. And people who subscribe to the game between January 11 and August 1, 2016 will unlock a bonus chapter where you can play as HK-55. How cool is that?!
The Fallen Empire rewards site has buttons for February-July at the moment with respective rewards yet to be announced.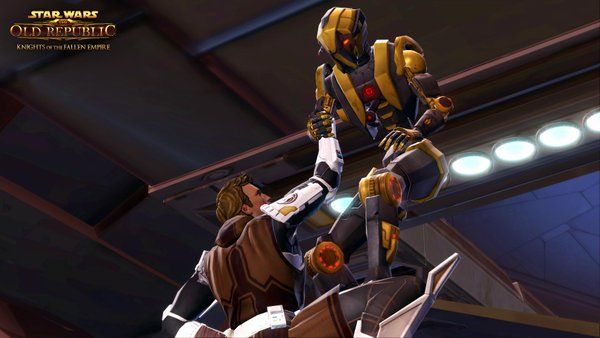 December Events
Following the rewards program comes a look at what Star Wars the Old Republic players can look forward to in the month of December, with 4th Anniversary Log in rewards, December's Rakghoul Plague, Life Day, and more.
Events

Dec 8 – Dec 15: Relics of the Gree
Dec 8 – Jan 5: Log in for 4th Anniversary Rewards!
Dec 15 – Dec 22: The Rakghoul Plague
Dec 15 – Jan 5: Life Day
Dec 18 – Jan 1: Double XP
Dec 22 – Dec 29: Bounty Contract Week

For Life Day this year we have made a few changes to the rewards. All previously available rewards, including some items previously only available on the Cartel Market, are available for purchase with Snow-Covered Parcels from the Master of Ceremonies on each Faction's Fleet. Additionally, we have a few new Cartel Market items in honor of Life Day and one of them might be a tank that shoots snowballs, seriously.

Conquests

Dec 8: Relics of the Gree
Dec 15: Rakghoul Resurgence
Dec 22: Death Mark
Dec 29: The Balance of Power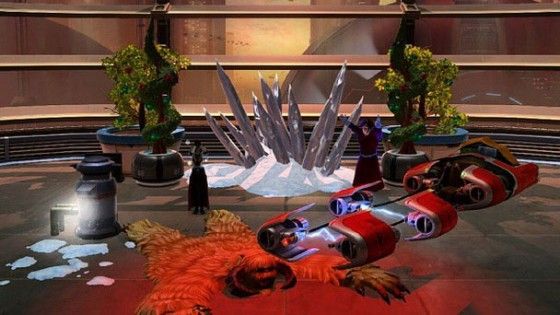 Source: SWTOR Forums, KotFE Rewards
Our Thoughts
The subscriber rewards leading up to SWTOR's Knights of the Fallen Empire expansion were a genius move, giving people rewards for spending money is a great way to convince people to subscribe and we're glad to see that BioWare are continuing with this tradition in 2016.
It's also awesome to see so much to do in game in December. Life Day is always good fun, and we all love bonus experience and log in rewards! It's also nice that BioWare have added the previous Life Day rewards as in game purchasables, including a few that have previously been available only for Cartel Coins.
Related:
Bioware
,
Event (In Game)
,
F2P
,
Holidays
,
MMORPG
,
News
,
Star Wars The Old Republic